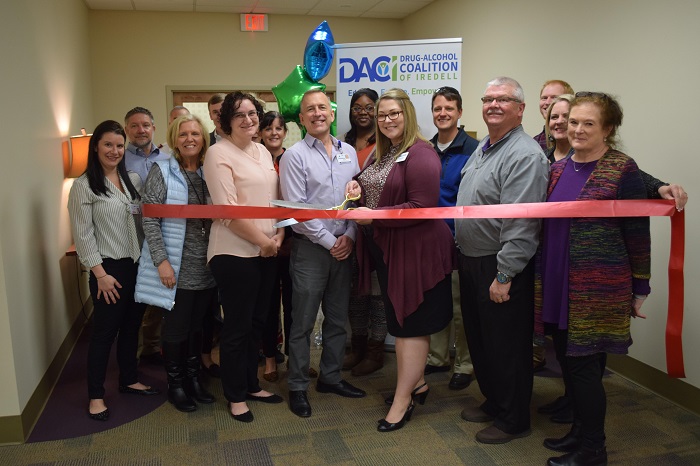 BY DEBBIE PAGE
debbiepage.iredellfreenews@gmail.com
Greater Statesville Chamber of Commerce officials Shannon Viera and Valerie Chambers were on hand to welcome new member Drug-Alcohol Coalition of Iredell at a ribbon cutting at the organization's March meeting.
DACI Chairwoman Patti West proudly celebrated the milestone, saying she was grateful to the coalition members for the group's success. "It's a great day to save lives and will be for the rest of the week and the rest of the year," West said.
PROVIDER RESOURCE BREAKFAST
After a brief reception and refreshments, DACI Director Jill St. Claire briefed members on several upcoming events. The next Statesville Provider Resource Breakfast, which is free and open to the public, will be Monday, March 16, from 8 to 10:30 a.m. at Christ Church (2172 Wilkesboro Highway).
Please register on Eventbrite to help DACI plan for breakfast needs.
The event will help attendees guide clients, students, patients, and families to find housing, health care, food, and Medication Assisted Treatment (MAT) resources serving residents of Statesville and Iredell County. Organizers hope those attending will leave empowered to make a difference in the community.
Breakfast and networking will be from 8 to 8:30 a.m. with presenters providing resource information from 8:30 to 10 a.m. More networking opportunities will be from 10 to 10:30 a.m. Though the event is free, donations are appreciated and will be accepted at the door.
VAPING EDUCATION
St. Claire recently attended a vaping conference and shared the scary mix of synthetic chemicals contained in vaping products. Youths have also learned to make their own vape pods, spurring a black market with even more unknowns that teens are inhaling in their lungs.
To combat this epidemic among the community's youth, DACI is planning two vaping education events, one focusing on parents and teens and the second geared toward the professional community. Both events are open to the public.
♦ The Truth About Vaping for Parents and Students on Thursday, April 30, which will include a dinner, will be at Harbor Church (433 Williamson Road) from 6 to 8 p.m. The program will feature 16-year-old Luka and his mother, both of whom dealt with the severe medical and behavioral consequences of vaping.
♦ The Truth About Vaping for Professionals (geared toward educators, medical field, youth-oriented organizations or services) will be on Friday, May 1, from 8 a.m. to 1 p.m. at Harbor Church (433 Williamson Road). In addition to Luka's story, this event will feature information on the progression of vaping to stronger drugs and other information to help those working with youth combat this new addiction.
Signups for both events will be on Eventbrite in the near future. For more information, contact St. Claire at jill@daciredell.org.
IREDELL COUNTY ER OVERDOSE DATA
In 2019, visits to the county's emergency rooms for medication overdoses dropped from 497 in 2018 to 424. However, unintentional medication overdoses increased from 206 to 234. Opioid overdoses rose from 76 to 99, and heroin overdoses increased from 42 to 49.
Benzodiazepine overdoses dropped from 50 to 39, as did visits for alcohol dependency from 1,313 to 1,139.
Drug overdose/abuse/dependence visits rose from 1,031 in 2018 to 1,807.
Sandy Tabor-Gray, certified peer support specialist at Iredell County Emergency Medical Services, reminded coalition members that these statistics only reflect those who actually visited an ER. She said about 50 percent of EMS calls for those experiencing an overdose or from addiction-related issues end with the patient refusing transport to the hospital.
District Attorney Sarah Kirkman said her office is seeing an increase in methamphetamine in Iredell County, a problem that had been mostly in Alexander County. Heroin remains a problem, as does the misuse and selling of prescription drugs.
Though some defendants are mandated to enter drug treatment as part of their court disposition, Kirkman and others said those who choose to enter treatment tend to be more successful than those who are mandated because they are ready to change and seek recovery.
Tabor-Gray noted that continuing services to those leaving residential treatment is crucial, especially if they are returning to the same environment in which they developed their addiction. A support system and follow up to help them with coping mechanisms and choices is essential to successfully continuing their recovery.
Salvation Army Major Joe Muré shared information about his organization's 24 Adult Recovery Centers that provide free residential recovery programs throughout the Southeast, with the nearest 140-bed facility in Charlotte. Women's programs are available in Memphis and Tampa.
Clients live in the program for six months to a year or more to get the help they need to achieve and maintain their sobriety.
CBD/THC VAPING DANGER
The next DACI meeting will focus on CBD and THC vaping dangers. This May 4 meeting at 11 a.m. is also open to the community. St. Claire is working to get a larger meeting place so the location is to be announced. For more information, contact St. Claire at jill@daciredell.org.