BY BRANDY TEMPLETON
Crying as she clutched the side of her daughter's coffin Friday afternoon, Tamika Smyre tried desperately to make sense of her profound loss, to find something to hold onto that could help her endure the pain.
Her 20-year-old daughter, Tey'Honnah Lynette Dye, died last Saturday from a gunshot wound in Statesville.
"It's not right," said Smyre, who has struggled to sleep in the days since her daughter's death. "I'm lost."
Four days after the early morning shooting the Statesville Police Department arrested Demarcus Lamont Maddox Jr., 21, in connection with Tey'Honnah's death. Maddox is charged with murder, possession of a firearm by felon, and misdemeanor discharging a firearm within the city limits.
Around 2:30 a.m. last Saturday, Smyre received the phone call that every mother fears. Her sister told her she needed to come quickly to the 1100 block of 5th Street. Tey'Honnah had been shot and was lying on the ground.
After rushing to the scene Smyre found her daughter unresponsive and began CPR. The 2018 Statesville High graduate and young mother passed away shortly after being transported to Iredell Memorial Hospital.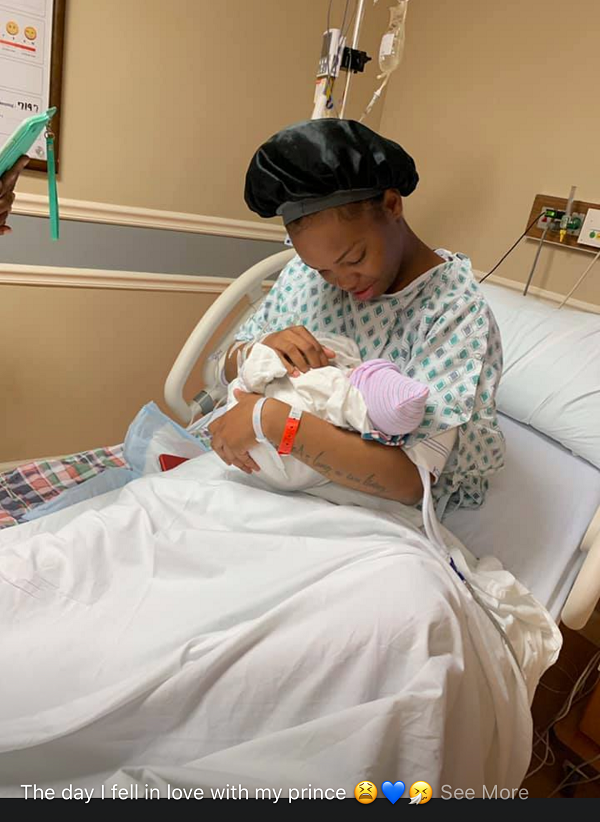 The ensuing week has brought a whirlwind of emotions for Smyre, and seeing her beautiful daughter inside that coffin caused a pain that no parent should have to feel.
"She looked like an angel," Smyre said. "She was somebody's mother, a friend, sister, a daughter."
Smyre cried as she spoke to friends and relatives who offered their condolences during the viewing at Rutledge & Bigham Funeral Home on Friday. She believes Tey'Honnah will now watch over her and Ty'Hon Jamire Ali Dye, the 11-month-old son she left behind.
"In a way it was one of the worst feelings in the world," she said. "But in a way it was one of the best things that could have ever happened — now she's my guardian angel."
Smyre said she has forgiven Maddox, the man charged with killing Tey'Honnah.
"He is a family friend," Smyre said. "He never lied to me. He told me the truth."
The grieving mother does not believe the suspect intended to kill Tey'Honnah.
"The bullet wasn't for her. He would protect my daughter," she cried. "He's so upset about this."
Whitney Work, a family friend, said Smyre's willingness to forgive the suspect is an example for others who have been devastated by Tey'Honnah's death.
"If she can forgive him, then what do other people have to say?" Work asked.
Work is actively helping Smyre by fundraising for Tey'Honnah's young son. She wants to make sure that he has everything he needs and make sure he has a birthday party.
Meanwhile, Smyre said she will continue to lean on the Lord in the dark days ahead.
"He's got me," she said.