BY DEBBIE PAGE
debbiepage.iredellfreenews@gmail.com
The Town of Troutman and former Town Manager Bryan Gruesbeck have agreed to sever their contractual relationship after Gruesbeck resigned November 12 after about four months on the job.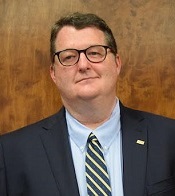 Under the terms of a severance agreement, signed on November 16, Gruesbeck will receive his regular salary and all benefits through December 31. He also received pay for all earned leave time.
Based on his annual salary of $95,000, Gruesbeck will receive about $11,875 in severance pay.
On January 1, 2021, he must pay for his insurance through COBRA or obtain his own insurance, according to the severance agreement.
The document also stipulates that Gruesbeck agrees to pursue no legal action or lawsuits against the town in the future. Neither the town nor its employees or political representatives may make disparaging remarks about Gruesbeck or vice versa.
The town council held a special meeting on Saturday to discuss personnel matters. That meeting was continued until a second session on Monday afternoon.
Mayor Teross Young said Monday night that the closed session was again continued until 3 p.m. Wednesday afternoon.
Finance Director Steve Shealy will serve as interim manager until a new town manager is hired.