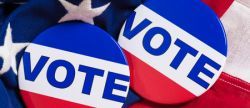 FROM STAFF REPORTS
Iredell County voters overwhelming supported a pair of bond referendums authorizing the Board of County Commissioners to finance construction of a new high school, new middle school and a public safety training center.
Some 24,594 voters (66.5 percent) supported the Iredell County School Bond, which asked voters to support a tax increase to raise $115 million for a new middle school for Mooresville Graded Schools and a new high school for Iredell-Statesville Schools. Some 12,379 voters voted no.
Support for that measure was strongest in the south end of the county, where two I-SS high schools and an MGSD middle school are at capacity. The majority of voters in five northern Iredell County precincts voted no.
A second referendum asking voters to authorize commissioners to finance construction of a $10 million public safety training center for Mitchell Community College enjoyed similar support, with 23,956 voters (65.2 percent) voting yes and 12,788 voting no.
County officials have estimated that debt service for the principal and interest on the $125 million general obligation bonds will necessitate raising the property tax by one cent per $100 of property valuation.
All results are unofficial until certified by the county board of elections. A total of 38,335 ballots were cast in Iredell County. There are 121,325 registered voters in the county.
Iredell County Board of Commissioners
Incumbent Gene Houpe and newcomers Scottie Brown and Melissa Neader prevailed in a close race in the Republican primary for three seats on the Iredell County Board of Commissioners.
Brown was the top vote-getter (21.98 percent), Neader was second (20.91 percent) and Houpe (20.55 percent).
Steve Ellis was a close fourth, finishing 204 votes behind Houpe. Raymond Burnette and Ryan Pegarsch were a distant fifth and sixth.
There are no Democrats running for the three seats. The top two vote-getters in the November election will receive four-year terms; the third-place finisher will receive a two-year term.

Iredell-Statesville Board of Education
Two incumbents and a newcomer won Republican primaries for three seats on the Iredell-Statesville Board of Education.
Incumbent William Howell defeated Robert Bennett in District 2, Doug Knight bested two challengers in District 4, and incumbent Charles Kelly held onto his seat by a 102-vote margin.
Only Knight faces opposition in the November election. He will square off against incumbent Chuck Gallyon, a Democrat



Judicial Races
Three new judges were elected in Judicial District 22A on Tuesday.
Will Long garnered 13,433 votes in Alexander and Iredell counties to unseat Superior Court Judge Lynn Gullett by 366 votes.
Rob Young won a District Court judgeship by garnering 13,964 votes to defeat Susan Ervin, who tallied 10,917 votes.
Meanwhile, Bryan Corbett collected 11,897 votes to win a three-way race for another seat on the District Court bench. Adam Hilton finished second and Daryl Davidson Sr. was third.
No Democrats filed for the races.