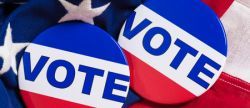 BY KARISSA MILLER
School officials and community leaders breathed a sigh of relief and cheered Tuesday when they realized the school bond referendums would pass.
Nearly 67 percent of voters supported the $115 million package for Iredell-Statesville Schools and the Mooresville Graded School District. The $10 million bond for Mitchell Community College garnered the support of 65 percent of voters.
Officials said that the school bond was needed because two I-SS high schools in the south end of the county and MGSD's middle school are at capacity with continued growth projected. Mitchell will use its bond proceeds to build a public safety training center.
I-SS Board of Education Martin Page said the bonds' passage was "big for the kids" who really need the space and the classrooms.
I-SS will receive $80 million to pay for construction of a new high school in the southern end of the county. Both Lake Norman and South Iredell High Schools are over their intended capacity.
"I want to say thanks to the people in the community who took time to educate themselves," Superintendent Brady Johnson said. "We will work hard to make sure the new high school is completed and there for many, many years to come."
MGSD will use its share of the bond proceeds — $35 million — to build a second middle school on property it owns off Rinehardt Road.
An additional middle school will add 900 seats and alleviate the overcrowding. It will also allow the district to reconfigure their grade levels so that they alleviate overcrowding at its three elementary schools.
The bonds would not have passed with the support of the citizens who served on the school facilities task force and members of Our Schools First, which raised the funds to campaign for the bond.
"We appreciate all of their hard work and dedication to public schools," Johnson said.
"I also want to applaud the county commissioners for having the confidence for turning this over to the voters and giving the voters the ultimate decision making. It took a lot of courage on their part and I really do applaud them," he added.
On Tuesday evening, around 25 Our Schools First (OS1) members, education leaders and bond supporters gathered at Duckworth's Grill in Mooresville to wait on the bond results.
When OS1 President Beth Packman heard the school bond referendums passed, she said she was absolutely elated and shocked.
"It came in at a much higher margin than we expected, and from that perspective we're absolutely shocked and appreciative of those who voted yes," Packman said.
OS1 held informational meetings, posted signs throughout county and informed voters of the need for new facilities.
"We all work full time and we do this on the side. We've spent the last few months running a marathon and are now finally crossing the finish line," Packman said, noting she was looking forward to a good night of sleep.
The community couldn't make a better investment than the schools and colleges, said Mitchell Community College Vice President for Advancement James Hogan. "We appreciate all of the voters and are so excited to do this for our students," he said.
Hogan said he's thankful for the support of the public safety community.
"We will make the community proud of their support. I think we do a great job with the college, in terms of public safety … It's a great vote of confidence," he added.
The new facility will benefit MCC students pursuing careers in the public safety and emergency services sector. It will also allow for growth in this field. Most public safety graduates stay and work in Iredell County.