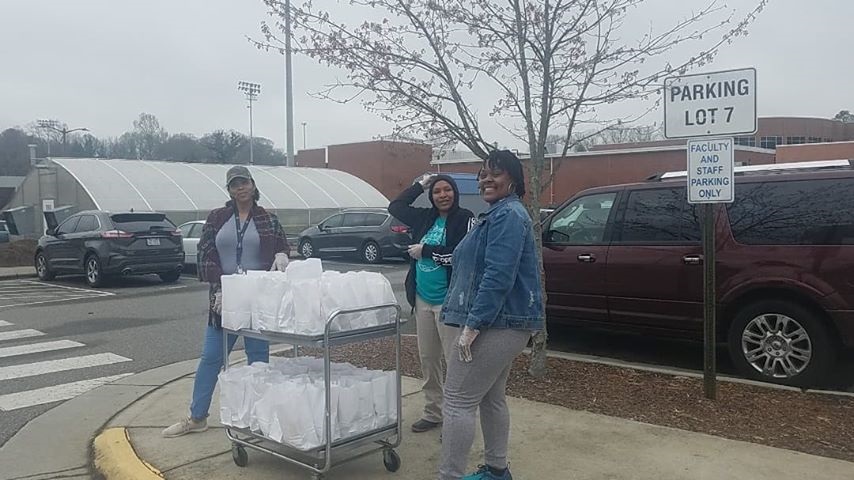 BY KARISSA MILLER
Forty-five percent of the students in Iredell County live in "food insecure" homes with limited or uncertain access to adequate food, according to Iredell-Statesville Schools Nutrition Director Tina Wilson.
When the governor ordered schools to close through at least the end of March as the state deals with the COVID-19 outbreak, I-SS officials grew concerned over whether this segment of the student population would have enough to eat.
The district launched its Grab and Go food initiative on Tuesday. The program provides students age 18 and younger with a free carryout lunch and breakfast for the next day.
The pickup times are between 11 a.m. and 1 p.m. each weekday.
Scotts Elementary is one of the designated sites and on Wednesday Scotts' child nutrition manager Teresa Moore said she hopes to reach more children in need of nutritional support.
"We're going to feed them," said Moore. "There's been a lot of prayers going up."
With 12 designated school sites acting as Nutritional Hubs, school nutrition employees throughout the district from various schools come together to prepare and serve food wherever they were needed.
Wilson gave her staff the option to work or stay at home, but most everyone has offered to work.
School nutrition employees have served in many capacities, including food handlers, packers and checkers and riders who helped transport food to homes.
District officials consider the program to be a "meals-on-wheels" for children and are committed to making these two weeks a success for students.
"These are our regular jobs. It's not always just a job where you just come in and get a paycheck. You're putting forth everything you can. You see these ladies running to and fro' just to make sure these kids get meals," said South Iredell High child nutrition manager Graye Templeton.
West Iredell school nutrition employee Melissa Cauthen, who was also at Scotts on Wednesday, began working in school food service more than 30 years ago.
She's always had a passion for children and serving food. The students, she said, have taught her to be versatile and open to learning.
Cauthen, a 1978 West Iredell High School grad, turned 60 on Wednesday.
Her birthday served as a reminder that all roles inside of a school building are important and actions speak louder than words.
The child nutrition team at Scotts said the second day brought in more families than the previous day and the staff prepared around 75 meals for students.
All lunches prepared for the students were hot and breakfast items for the next day were ready to eat items.
Sign up for Meals
In order to pick up a meal, click HERE to sign up. Those without Internet access are asked to call their school to sign up.