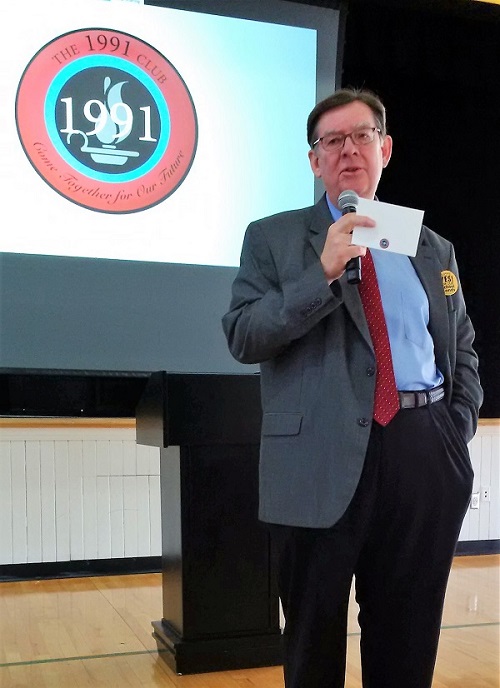 BY KARISSA MILLER
Former school board member Maxine Middlesworth gave the school system $20,000 to start an endowment fund in 1991.
Her husband, Chester Middlesworth, remembers Maxine regularly visiting each school in the district every school year while she served on the board.
"The kids were important to her," Mr. Middlesworth said.
The gift she gave the district represented the accumulation of her per diem money for travel and training expenses incurred during her 16 years on the board.
"She took all that money, which had totaled up over the years, and gave it back to the district to start the fund," Mr. Middlesworth explained.
The Iredell-Statesville Public Schools Endowment Fund was established in 1991, during the same year that Statesville City Schools and Iredell County Schools merged.
Thanks to Maxine Middlesworth's generosity, I-SS Director of Communications Boen Nutting uses the endowment's interest income to fund eight to 10 mini-grants for teachers across the district each year.
"Maxine was an outstanding board member," said Superintendent Brady Johnson. "I don't think there's ever been a person who took that job more seriously than she did and approached her work with one question in mind – 'Is what I am about to do in the best interest of children?' "
Over the years, the endowment fund, which is administered by the Foundation for the Carolinas, has increased to about $100,000, Johnson said. If the market has a good year, the endowment generates about $6,000 in interest.
On Thursday morning, over coffee and breakfast, Johnson told a small group of community members and dignitaries at the Unity Center in Statesville that the district is ready to take the Endowment Fund to new heights with the creation of "The 1991 Club."
"We want to not only look at a planned giving program for the school system. But we want a similar group to be trustees of the school system," Johnson said.
He invited those in attendance to become a trustee of the school system.
"A trustee is someone that you give something of value, too. You give that gift to them with the understanding that it is a great value and our job is to guard it, nurture it, grow it and make it stronger—and pass it on," Johnson said.
Nutting shared a little bit about what it means to be a 1991 Club member/trustee.
"I hope at the end of the day that you decide to be a trustee with us," she said. "Each of you were thought of by our executive team and they thought of you as someone who is a champion for public schools.'
In order to be a premier school system, she said, I-SS must have buy-in and support from the community.
"We want everyone to know what a gem we have in Iredell-Statesville Schools," she added.
At the end of the event, the Middlesworths announced that they would donate $1,991 to the foundation, which was met with a loud applause.
Join the Movement
The cost to become a 1991 Club member is $19.91 annually. Click HERE to watch an informative video and donate online.
You can also become a member by making a check payable to Iredell-Statesville Public Endowment Fund, Attn: 1991 Club Foundation, 549 N. Race Street, Statesville, NC 28677.
Concert scheduled for Jan. 25
The I-SS Education Foundation has partnered with Randy Marion to sponsor the Educators With a Cause Concert on Saturday, Jan. 25, at 6 p.m.
The fundraising concert will take place at Mac Gray Auditorium at Statesville High School. The event will feature I-SS employees singing and playing musical instruments. Tickets are $10 and seating is limited the day of the event.
Click HERE to hear a recording of EWAC members singing "Jolene" and to purchase tickets in advance.