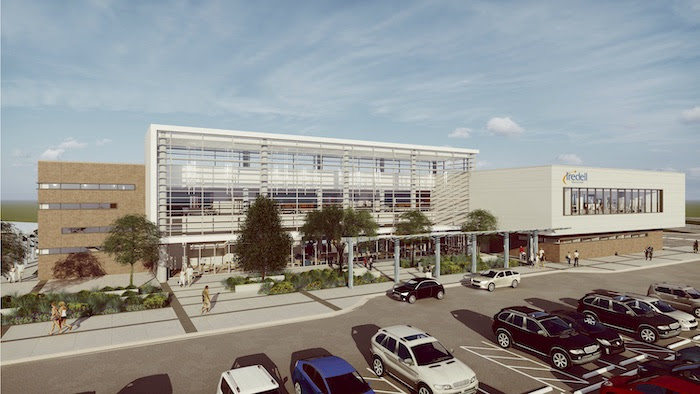 Rendering courtesy of Iredell Health System
BY DEBBIE PAGE
debbiepage.iredellfreenews@gmail.com
Over 100 community members, including elected officials, local business and agency leaders, and Iredell Health System trustees, board members, and employees, gathered on Friday morning to break ground on the first phase of a new 68,000-square-foot medical facility in Mooresville.
Located on a 17.2-acre site off Bluefield Road, the first two-story building will house a 24-hour urgent care center. The facility will also feature an ambulatory surgery center, physician offices, and a state-of-the-art diagnostic imaging center that will include CT, ultrasound, mammography, and X-ray capabilities.
Construction is scheduled for completion in the spring of 2021.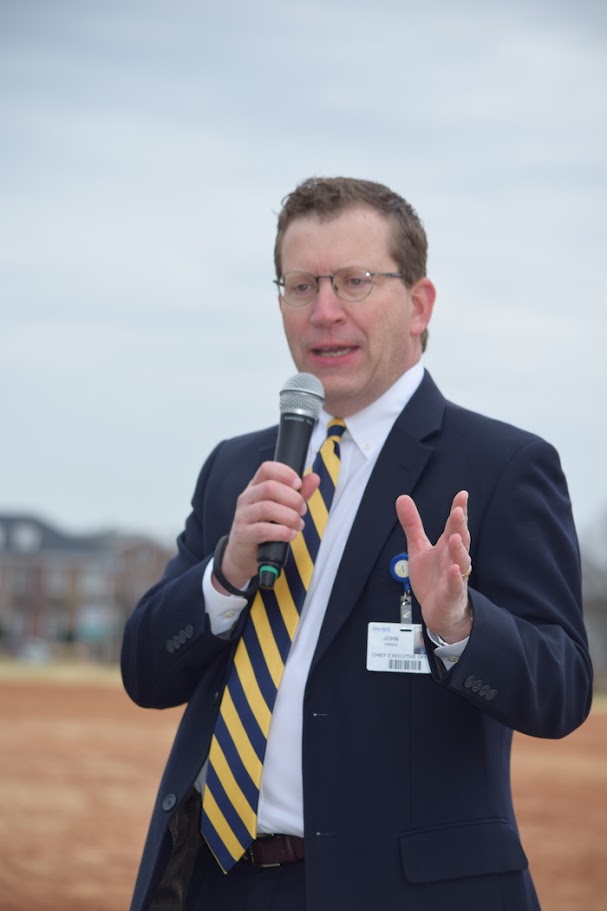 Iredell Health System is investing $35 million in the property and first phase, which IHS President and CEO John Green acknowledged is a "pretty risky" undertaking.
"But, to me, the reward is bigger than the risk because when we look at what we can provide to the community, that is why we are here," he said.
Green said that at least 40 new employees would be hired to work at the facility, with more to follow with future expansion.
IHS currently employs 1,700 people, which translates to a major economic impact for the county. The nonprofit also reinvests profits in improving community healthcare.
Mooresville Mayor Miles Atkins, who serves as IHS director of Corporate Affairs & Government Relations, welcomed attendees, including N.C. Senator Vickie Sawyer, N.C. Reps. John Fraley and Jeff McNeely, County Commissioner Gene Houpe, and members of the Mooresville Town Board of Commissioners, town staff, and police department.
Atkins called the project an "historic, monumental endeavor" for Mooresville.
After thanking the standing-room only crowd for its support, Green explained that the "locally owned, locally operated" health system began in 1952 when a group of citizens banded together, with the support of the county government, to create a nonprofit hospital for the county.
At that time, 30 percent of the population lived in Statesville, which is located in the heart of the county. Today, the burgeoning growth of Mooresville and the southern part of the county, estimated at about 80,000 residents, has created a vital need for more healthcare in the area.
"That is a dramatic change. If we go back to the mission of our hospital, it's our responsibility to care for the health and wellness of the entire county," Green said. "Part of the entire county is Mooresville and South Iredell."
IHS is not new to Mooresville. Its first physician practice, arriving in 2008, has now expanded to five locations housing seven practices and 18 providers.
"But we knew we needed more because that really wasn't enough for the size of Mooresville," Green said.
After an extensive search for property in the town's hot real estate market over the past four years, Green and his team found an ideal spot.
"You could not ask for a better location for an accessibility standpoint, which is what healthcare needs to be," the CEO said.
Green said the IHS goal was to create a second IHS medical campus on the property, with total buildout estimated at 200,000 square feet. This first phase was dictated by community demand.
"We heard repeatedly that one of the things that was needed was the opportunity to have cost-effective, non-emergency care when needed. How do you do that? You have to have something open 24 hours a day, seven days a week."
"We are a nonprofit organization that is community-based, and our job is to do what the community needs. So if that what the community needs, guess what — that is what we should do!"
No ambulatory surgical center is currently available in Mooresville, forcing patients to a more expensive hospital surgical setting. When patients can have minor surgeries at such centers, "that is more cost-effective," said Green.
The high-tech diagnostic imaging center will provide patients with "four of the tests you really need to figure out what is wrong with you. If you are in the urgent care or one of our physician practices, or one of the many other physician practices in this region, you'll have the opportunity to have those services here locally."
The IHS occupational medicine and physical rehab services now located in east Mooresville will be moved into this new facility when it opens since these patients often need imaging services.
"We see this as the first step of creating our 200,000-square-foot medical campus," said Green, who looks forward to continuing relationships with area physicians, such as Piedmont HealthCare, as well as forging new relationships with "high-quality Lake Norman area providers. We know that there are many."
Green believes "local" is important not just in shopping and dining but also in accessing healthcare too. The 15 members of the IHS Board of Directors, who live in all areas of the county, "push our admin team every day to pursue the best vision for Iredell," he said.
He urges folks to begin to embrace a "keep healthcare local" mantra. IHS's goal is to give patients the care they need in this community.
"I will be very happy in June of 2021 when I am standing in this spot and watching patients receiving care right behind me," added Green.
Green expects buildings two, three, and four to follow quickly to complete the medical campus. What will go in those buildings is now unclear.
"Our goal is to be a collaborative healthcare provider. Our goal is to look to see what the community needs and can benefit from, and that's what we want it to be."
Green said IHS is committed to remaining "high touch" in its patient care even as it becomes more high tech. Maintaining its standards of high quality and reliability in its approach will also be key.
In an interview before the ceremony, Green said surgeons are already "knocking my door down" with interest in the new ambulatory surgical center. "It will be a new opportunity in a wonderful new setting. We'll have the opportunity for multiple types of surgery," he explained. "It's just which ones fit best with the scheduling."
This building represents the "future of medicine," said Green. "It's not about inpatient beds. It's about what we can do for you from an ambulatory standpoint."
"Less people are being admitted to hospitals, so how can we build a facility that today helps us from a high-touch, high-tech standpoint but also in the future, maybe with telemedicine or other things that are out there that can create a microcosm of the future of medicine — offering widespread access in the most cost-effective way."
Healthcare has to change, according to Green. "It's too expensive, it's confusing, and it's too complex. It's really not consumer-driven. So when you look at all aspects, we recognize that we have an opportunity to start a net change with the building and a campus like this."
Alan Jenkins of the Keith Corporation, which is managing the entire project, said that "John's vision for this site is the future of healthcare, providing outpatient services for the community with ease of access. This will become the benchmark for outpatient facilities in this region and the nation."