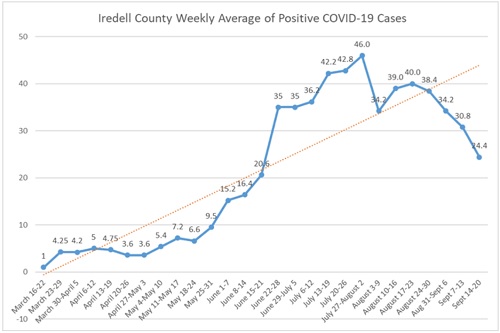 FROM STAFF REPORTS
Iredell health officials reported the county's 38th death attributed to COVID-19 on Friday afternoon.
The Iredell County Health Department does not release personal information about COVID-19 patients, including those who die.
According to the latest data released by the Health Department, 3,064 people across the county have tested positive for COVID-19 since the pandemic began in March. Among those:
♦ 21 people are currently hospitalized;
♦ 298 people are in isolation; and
♦ 2,707 people are now presumed recovered
In an update earlier this week, Iredell County Board of Commissioners Chairman James Mallory advised residents against becoming complacent and warned of a second wave of COVID-19 in the coming months.
Mallory encouraged residents to remain vigilant by wearing face coverings, practicing social distancing and washing hands frequently.
Geographic Dispersal of COVID-19 Cases in Iredell
According to local health officials, 1,188 people in the southern end of the county have tested positive for COVID-19, along with 1,255 in the central region and 621 in the northern end.