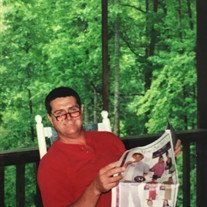 Larry Bynum Ellis, 66, formerly of Troutman, N.C., passed away on September 20th, 2020. He was born on October 27, 1953, and raised at Barium Springs Home for Children.
He is survived by his daughters, Stacey Ellis-Antisdel (Greg Antisdel), Heather Ellis Callejas, Brooke Parker (Nykywan Parker) and Jessica Ellis (Thomas Taylor). He is also survived by his grandchildren, Lauren, Emily and Carter Antisdel; Griselda and Lucas Callejas; Nahla, Nya and Titus Parker; and Rory Taylor. In addition to his immediate family, Larry is also survived by his siblings, Bill Ellis, Steve Ellis, Jerry Ellis and Donna Ellis. Larry was preceded in death by his sister, Ann Ellis.
A family graveside service will be held to celebrate Larry's life. A memorial service will be held at a later date.
In lieu of flowers, please donate to Mooresville Soup Kitchen at https://www.feednc.org/
Cavin-Cook Funeral Home & Crematory, Mooresville, is serving the Ellis family. Condolences may be made to the family at www.cavin-cook.com.