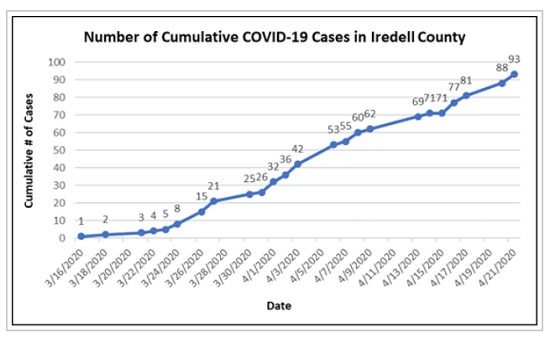 FROM STAFF REPORTS
The number of reported cases of COVID-19 in Iredell County continues to rise as the death toll in North Carolina eclipsed 200.
The Iredell County Health Department reported five new cases on Tuesday, boosting the count of confirmed cases in the county to 93. Three people have died in the county from the novel coronavirus.
Fifty-eight of the confirmed cases are in the southern end of the county, 25 are in the central part, and 10 in the northern section.
However, officials have stressed that COVID-19 is widespread throughout the community. Residents are advised to follow the governor's stay-at-home order, wear face masks in public, practice social distancing and wash their hands frequently.
The N.C. Department of Health & Human Services reported 34 new COVID-19 related deaths in the state on Tuesday, bringing the official county to 213. There have been 6,951 laboratory-confirmed cases in North Carolina, and 427 people remain hospitalized.
There have been 44,342 deaths attributed to COVID-19 across the U.S. and a total of 814,490 reported cases.
Geographic Dispersal of Confirmed Cases of COVID-19 in Iredell County