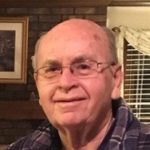 Robert Lee Gray, 78, of Statesville, N.C., died Monday, April 20, 2020, at his home. Born in Culver City, Calif., on December 19, 1941, he was a son of the late Edward Gray and "Betty" Inez Elizabeth Ward Gray.
Mr. Gray was a graphic artist with Rockwell International and enjoyed racing, hobby trains and wood working. He was a hard worker and a good provider.
He was preceded in death by a half-brother, Daniel (Danny) Schole, along with his parents.
Survivors include his wife, Laverne Ileen Gray; a son, Brian Gray (Kim) of Statesville; a daughter, Brenda Dean (Dennis) of Statesville; a half-brother, Larry Gray, and a half-sister, Linda McDaniel, both of Torrence, Calif. Also surviving are a sister-in-law, Jean Yolton of Los Alimitos, Calif., and grandchildren, Brandon Dean, Garret Dean, Kaitlyn Dean and Logan Gray.
Graveside services are scheduled for 11 a.m. on Friday, April 24, at Oakwood Cemetery with Rev. James Lewis officiating. The family will greet friends at the cemetery following the service.
Condolences may be sent online to the family to www.nicholsonfunerals.com. Nicholson Funeral Home is entrusted with the arrangements.