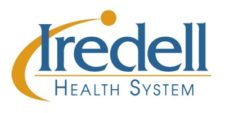 Special to Iredell Free News
In an effort to better protect patients and staff, Iredell Health System is expanding visitor restrictions.
Anyone who is not immediate family — even if they are healthy, and regardless of age — is asked not to visit patients.
Iredell Health System has had flu precautions in place for several months. Those precautions restrict visitors under the age of 18 from coming to the hospital and Skilled Nursing Facility unless seeking medical treatment.
Leaders within the Health System are continuously monitoring the COVID-19 situation throughout the country, and are making adjustments as necessary with the ongoing and changing medical information received. The decision to expand visitor restrictions is consistent with other regional healthcare organizations.
The Health System will continue to serve the needs of the community through outpatient tests, procedures, and surgeries without interruption. However, patients receiving those services should limit the number of individuals who accompany them to Iredell's facilities.
"We understand that an additional person is frequently needed to drive a patient home. That is certainly understandable and necessary," said John Green, president & CEO of Iredell Health System. "We would ask that the number of individuals coming to assist be limited to one to two."
Staff will work with extended families who have special circumstances on a case-by-case basis.
Others who wish to visit and are not immediate family are encouraged to use phone calls and video chats on personal phones or mobile devices to communicate with loved ones while the restrictions are in place.
"With the continued spread of COVID-19, healthcare organizations are now being encouraged to limit the number of individuals entering our buildings and interacting with patients to lessen
the risk of spreading infection," Green said. "Our intent is to help to prevent the spread of this fast moving virus and ensure a safe environment for our patients, our staff, and our community. We understand this change may be difficult, and appreciate your understanding and patience."
For more information on COVID-19, visit cdc.gov/COVID19.
About Iredell Health System
Iredell Health System includes Iredell Memorial Hospital; Iredell Home Health; Iredell Wound Care & Hyperbaric Center; Community and Corporate Wellness; Occupational Medicine; the Iredell Physician Network and more. Iredell Memorial Hospital is the largest and only nonprofit hospital in Iredell County. The comprehensive healthcare facility has 247 beds; more than 1,700 employees; and has 260 physicians representing various specialties. Centers of excellence include Women's and Children's; Cardiovascular; Cancer; Surgical Services and Wellness & Prevention. The mission of Iredell Health System is to inspire wellbeing. For a comprehensive list of services and programs, visit www.iredellhealth.org