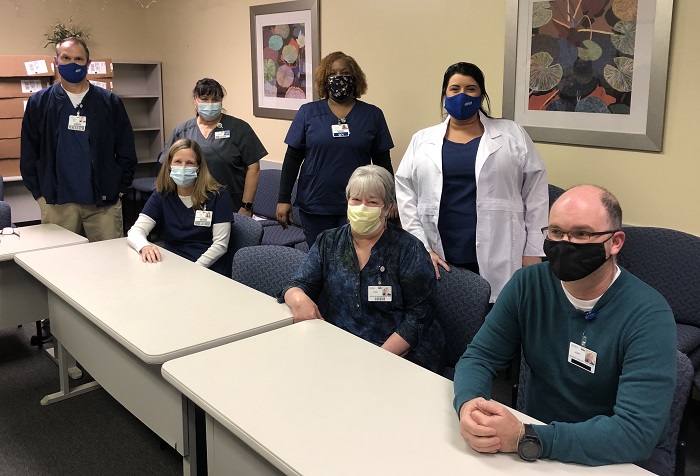 Special to Iredell Free News
Due to visiting restrictions limiting the time they can spend with family members, more patients in hospitals and skilled nursing facilities are shortening their stays and opting instead to receive care in their homes.
With more patients returning home sooner, Iredell Health System's home healthcare staff are oftentimes seeing high-risk patients with multiple comorbidities who require a higher acuity of care than they are accustomed to seeing.
"Our staff is working so diligently to make sure they are keeping our patients safe," said Kayce Johnson, Iredell Home Health's business liaison. "Our staff has been fantastic at changing as the things have changed, altering the way they do things to make sure they're being as safe as possible."
Iredell Home Health staff play a transitional role in helping patients return to living outside of the hospital following episodic treatment of a condition, whether chronic or acute. Staff help patients regain independence through skilled nursing, physical therapy, occupational therapy, speech therapy, or wound treatment.
Oftentimes a patient will continue their treatment with outpatient therapies when they are no longer homebound and have been discharged from Iredell Home Health.
This National Home Care and Hospice Month, Iredell Health System honors its home health team's skilled nurses, home health aides, physical therapists, speech therapists, occupational therapists, medical social workers, and office staff for the remarkable difference they make in the lives of the more than 300 patients and families they serve.
In contrast to medical professionals in a hospital or skilled nursing facility who can more easily manage the setting at their location, Iredell Home Health staff come into the office and pick up their supplies before going to see patients where they have little control of their surroundings. The home health staff members have enhanced their care as their patients' lives have changed during the pandemic.
"I think we're having to go a little extra far in providing some comfort to these patients who, because of the current situation, are still not seeing their families the way they would normally see them or having those normal community interactions they would have," Johnson said. "We're providing some additional benefits more on the mental side by providing some companionship through our regular visits where we're doing medically necessary things."
Iredell Home Health staff educate patients on their condition, answer questions, and help patients manage medications. A home health nurse is available 24/7 for patients as a first point of contact in case of concerns related to their condition. If a patient needs additional attention, a nurse may be scheduled for an additional visit, a call may be made to their referring provider, or they may be directed to the hospital for further care if necessary.
A plan of care is individualized for each patient in accordance with their physician's orders. The patient's plan of care is updated and reviewed by the referring physician at least every 60 days, or in the event of a significant change in the patient's condition.
The theme this Home Care and Hospice Month is "It's About How You Live," emphasizing that home healthcare is not a place, but is high-quality care enabling patients and families to focus on living as fully as possible. Iredell Home Health provides the services necessary to transition patients from the hospital to independent care.
Believing in the crucial role of the patient's support system, Iredell Home Health recognizes the patient and their family or principal caregiver as essential parts of the patient's team. Staff often teach and provide support to caregivers who are with the patient daily.
"I love home health because the involvement of the patient's family and support system is crucial," said Linda Thompson, Iredell Home Health's executive director. "In the home, we are able to gain perspective on what motivates the patient to improve their status. For example, if a therapist is in the home of a patient with a total joint replacement and sees golf trophies and memorabilia, they can use that information to help motivate the patient to continue improving."
With 10,000 Americans turning 65 every day, the need for healthcare will continue to rise, and costs will continue to skyrocket. As the preferred choice for many patients, home healthcare can offer the greatest cost savings. Home healthcare costs less than a typical hospital or nursing home stay and helps many seniors remain independent at home, improve their lives, and keep in touch with those they love.
Iredell Home Health further benefits patients through its connection with Iredell Health System, serving as part of the Health System's post-acute service line and working collaboratively with Iredell Wound Care and Iredell's Skilled Nursing Facility.
"Iredell Home Health is committed to patient-centered care in keeping with the mission of the Health System," Thompson said.
Iredell Home Health's heroic caregivers play a central role in the health and homes of our community. We invite local residents to commemorate the power of caring, both in the home and in the community, and to join Iredell Home Health and the National Association for Home Care & Hospice by celebrating November as National Home Care and Hospice Month.
About Iredell Health System
Iredell Health System includes Iredell Memorial Hospital; Iredell Home Health; Iredell Wound Care & Hyperbaric Center; Community and Corporate Wellness; Occupational Medicine; the Iredell Physician Network and more. Iredell Memorial Hospital is the largest and only nonprofit hospital in Iredell County. The comprehensive healthcare facility has 247 beds; more than 1,700 employees; and has 260 physicians representing various specialties. Centers of excellence include Women's and Children's; Cardiovascular; Cancer; Surgical Services and Wellness & Prevention. The mission of Iredell Health System is to inspire wellbeing. For a comprehensive list of services and programs, visit www.iredellhealth.org.