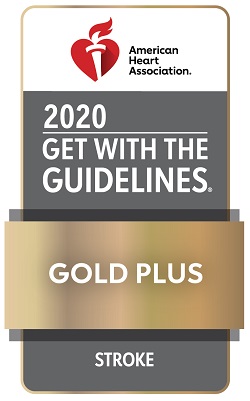 Special to Iredell Free News
A quick response to a stroke can make the difference between death or serious disability and resuming your daily activities.
At a time when emergency medical care matters as much as ever, Iredell Memorial Hospital is proud to receive the American Heart Association/American Stroke Association's Get With The Guidelines Stroke Gold Plus Quality Achievement Award. The award recognizes the hospital's commitment to ensuring stroke patients receive the most appropriate treatment according to nationally recognized, research-based guidelines based on the latest scientific evidence.
Iredell Memorial earned the award by meeting specific quality achievement measures for the diagnosis and treatment of stroke patients. These measures include evaluation of the proper use of medications and other stroke treatments aligned with the most up-to-date, evidence-based guidelines with the goal of speeding recovery and reducing death and disability for stroke patients. Before discharge, patients receive education on managing their health, get a follow-up visit scheduled, and receive any other care transition interventions.
"Iredell Memorial is dedicated to improving the quality of care for our stroke patients by implementing the American Heart Association's Get With The Guidelines-Stroke initiative," said Crystal Howell, a cardiovascular clinician with Iredell Health System and the certification coordinator for the hospital's stroke care. "The tools and resources provided help us track and measure our success in meeting evidenced-based clinical guidelines developed to improve patient outcomes."
"We are pleased to recognize Iredell Memorial for their commitment to stroke care," said Dr. Lee H. Schwamm, national chairperson of the Quality Oversight Committee. "Research has shown that hospitals adhering to clinical measures through the Get With The Guidelines quality improvement initiative can often see fewer readmissions and lower mortality rates."
Occurring every 40 seconds and accounting for one of every 19 deaths in the U.S., stroke is the fifth leading cause of death and a leading cause of adult disability.
Local residents' trust in Iredell Memorial Hospital's stroke care has continued to grow as the hospital has consecutively won the Gold Plus Stroke Award and has reduced stroke deaths by more than seven percent since it became a certified stroke center in 2008.
Partnered with the Wake Forest Baptist Telestroke Network, Iredell Health System reduces death and disability caused by strokes by ensuring patients have 24-hour access to acute stroke experts via two-way live video and audio consultation and image sharing technology.
The Health System's Telestroke program uses telemedicine robots, enabling stroke experts to evaluate a patient and consult with physicians in real time online. Physicians have more treatment options. And if a patient needs to be transferred to a different facility for a higher level of care, they can be transported via helicopter and receive preferential bed placement improving their chance to recover.
A stroke occurs when the flow of blood to a person's brain cells is impeded, particularly by a clot, a narrowed blood vessel, or bleeding. Symptoms of a stroke include sudden numbness or weakness in the face, arm, or leg especially on one side of the body; sudden confusion or trouble speaking or understanding speech; sudden trouble seeing in one or both eyes; and sudden trouble walking, dizziness, loss of balance, or loss of coordination; and a sudden, painful headache.
No one should ever delay care for a medical emergency. If you experience stroke symptoms or another medical emergency, do not hesitate to seek emergency medical treatment. Iredell Memorial takes precautions that protect patients from COVID-19.
About Iredell Health System
Iredell Health System includes Iredell Memorial Hospital; Iredell Home Health; Iredell Wound Care & Hyperbaric Center; Community and Corporate Wellness; Occupational Medicine; the Iredell Physician Network and more. Iredell Memorial Hospital is the largest and only nonprofit hospital in Iredell County. The comprehensive healthcare facility has 247 beds; more than 1,700 employees; and has 260 physicians representing various specialties. Centers of excellence include Women's and Children's; Cardiovascular; Cancer; Surgical Services and Wellness & Prevention. The mission of Iredell Health System is to inspire wellbeing. For a comprehensive list of services and programs, visit www.iredellhealth.org.