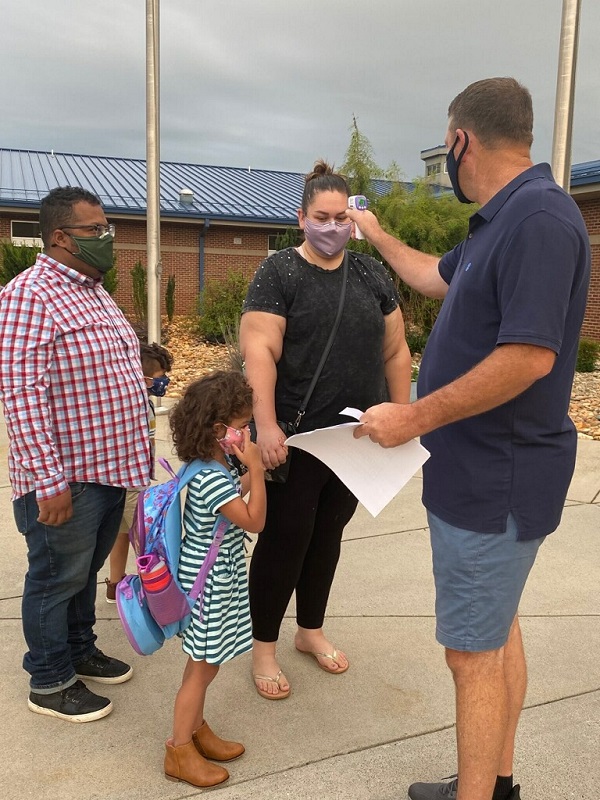 BY KARISSA MILLER
The first day of school was unlike any other in Iredell-Statesville Schools history. Although the sky over Cloverleaf Elementary was bright and sunny on Monday morning, the lingering cloud of COVID-19 hung over the International Baccalaureate school and the rest of the district as a new school year dawned.
The district has implemented health precautions new measures, such as temperature checks, face masks and social distancing, to mitigate the spread of COVID-19.
As is the case every year, students also must learn their class schedules and get to know new teachers and classmates. This year about half of the students are attending any given class via Zoom, a teleconferencing software being utilized by I-SS for remote learners.
"Every first day is special. It has been a good first day. We were all really excited to see the kids," Cloverleaf Principal Andy Mehall said.
While some students walked down the hallways to find classrooms, other students logged in for their first day to be greeted by teachers in their virtual classrooms.
"We're adapting to new ways," kindergarten teacher Mandi Gragg explained. "I usually give each student a hug each morning before they enter the classroom. Now, we wave or give a peace sign and use other expressions."
Gragg said her students were good a good job keeping their masks on. All students, except for those in pre-K, are required to wear a mask. There are masking breaks throughout the day.
"I'm trying to teach them (mask requirements) just like I do my classroom rules. It's kind of built into the rules," Gragg said.
"We are going to make it as fun as we possibly can," she added.
Across the hallway, kindergarten teacher Angie Webb was teaching about 15 students via Zoom.
"You have to rethink everything. What you see and do in person, it doesn't work the same way," Webb explained. "You have to tell them to mute yourself, unmute yourself and things that you don't say in class."
Teaching virtual kindergarten requires a lot of parental involvement, Webb said.
Parents and students are learning how to get on Zoom, access the video camera, adjust the audio and a lot of other issues.
Virtual kindergarten uses a platform called Seesaw in addition to Zoom.
"We use a lot of Zoom so that we can try and make it as much a regular day as possible," Webb said.
Mehall said technology is really changing education in a positive way.
"I give parents a lot of credit because it's a large undertaking on their end," the principal said.
There were a few hiccups this morning with systems going down statewide, but Monday was a calm day at Cloverleaf.
"It's so much quieter in the building," Mehall said. "It's been a good morning and we want to keep that momentum going all week."
Preventing the spread of COVID-19 is being ingrained into everything.
"We are learning as we go. We try and limit the amount of exposure we have. You can't make this a foolproof plan, but we are going to get as close as we can," he added.
After a student or employee at Third Creek Middle School tested positive last week, the district decided seventh-graders at the school would begin the year with remote-only instruction.
"In a moment's notice every teacher in the building has to be ready to flip the switch to go to Plan C (100 percent virtual learning)," Mehall said.
Photos