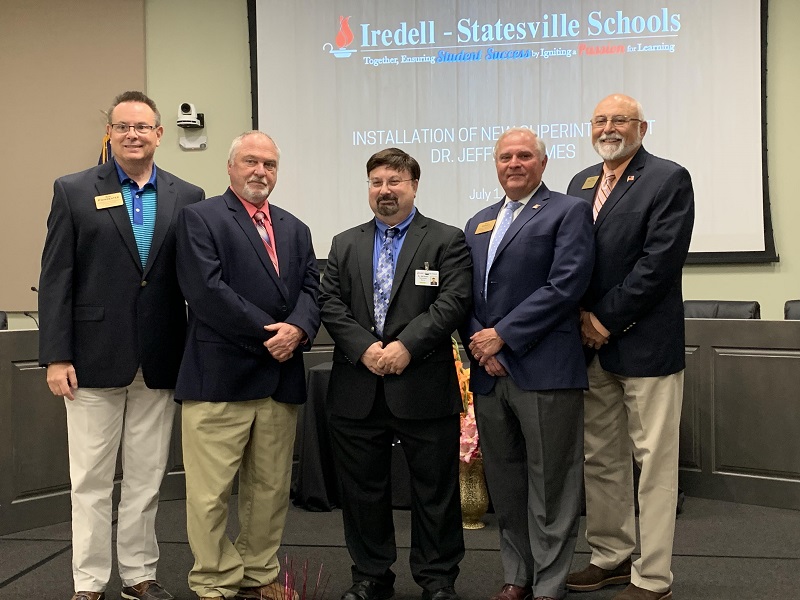 BY BRANDY TEMPLETON
Jeff James was sworn in as the new Iredell-Statesville Schools superintendent on Wednesday morning.
James, who agreed to a four-year contract after being selected for the position by the Board of Education this spring, said he has a 100-day plan for the district.
That plan, which he called "pretty aggressive," includes surveying educators about their needs, hosting town hall meetings to learn how the district can improve and staying focused on helping every student be successful.
"I think we forget that students and parents are our customers," he said. "We need to ask what they're wanting."
James, who succeeds Brady Johnson as superintendent, is a 1979 graduate of West Iredell High School. After a career in the private sector, he became an educator, working as a teacher, assistant principal and principal in I-SS before taking administrative positions in Montgomery and Stanly counties.
He's appreciative for the opportunity to return home. James said he came back to I-SS because "it's a calling."
Superior Court Judge Joseph N. Crosswhite administered the oath following a breakfast at the Career & Technical Center in Troutman. Several county leaders attended the ceremony and welcomed James in his new position.
"We're excited. I think I-SS is a great school system with great teachers, employees, students, and parents," school board member Sam Kennington said. "We're looking forward to the next level of coming together."
Register of Deeds Ron Wyatt said he saw James' dedication to students firsthand years ago when the new superintendent was an administrator at Troutman Middle School.
"He approved amenities and helped with resources so kids could play sports. It helped keep them engaged. He was willing to go the extra step," Wyatt said.
James said the COVID-19 pandemic has created new challenges for students and educators and will take a community effort if the district is to reach its potential.
"If ever it takes a village, it's today," he said. "I want to make I-SS even better than what it has been."
As part of his plan to hit the ground running, James plans to reach out to the faith-based community for extra support.
"I'm a big believer in having the faith-based community in our schools," he explained. "Students are arriving at schools with a lot of issues and they aren't ready to learn. We're expected to do more and more with less and less. These are challenging times."
In order to learn at the highest level, students will need to return to the classroom.
"Students are social creatures," he said. "They need face-to-face contact with teachers. Virtual is never going to be as good as face to face."
The new superintendent said everyone will be treated equally as long as he is the district's top administrator.
"I've always seen my job as an educator to level the playing field and make sure every student has the opportunity to be all they can be," he shared.
Video