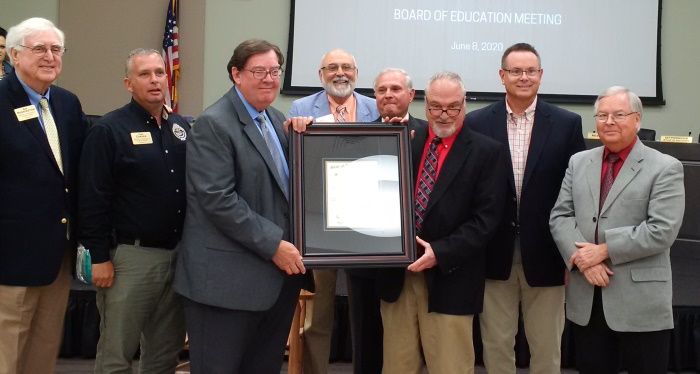 BY KARISSA MILLER
Soon-to-be retired Iredell-Statesville Schools Superintendent Brady Johnson was honored with the North Carolina Order of the Long Leaf Pine award during his last board meeting on Monday.
Johnson has spent 40 years with I-SS and will finish out his 10th year as superintendent. His last day is June 30.
Alvera Lesane, I-SS assistant superintendent of human resources, along with local lawmakers nominated him for the Order of the Long Leaf Pine, one of the highest honors granted by the governor of North Carolina.
School board chairman Martin Page and the board presented Johnson with the plaque in his honor during the meeting. It is presented to people who have made a significant impact and shown "exemplary" service to their communities and state, according to The Order of the Long Leaf Pine Society.
"That was a big surprise. Thank you all very much," Johnson said.
During his tenure, Johnson implemented the district's school choice program, providing parents with options like the International Baccalaureate program, Spanish Dual Immersion program and Early College High School programs.
He also championed the passage and completion of the 2014 bond referendum. The projects included building a new school for Cool Spring Elementary, building a performance art centers at North Iredell and South Iredell High Schools and construction of new middle schools at Woodland Heights and Third Creek.
This year he worked to gain voter support for the passage of the 2020 school bond referendum that includes a new high school in the southern end of the county to help with capacity issues.
Johnson, an Iredell County native, is a graduate of South Iredell High School. He started out as a high school history teacher—teaching at both North and South Iredell high schools. He later served as an assistant principal, principal, deputy superintendent and superintendent.
Johnson credits the public schools of Iredell County for lifting him out of poverty.
"I became the first high school graduate in my family," Johnson said. "My personal experience with the teachers and support staff in this school system helped me get my mind wrapped around a quote I like to use, 'Public education is every child's chance and every community's future.' "
Commissioner Gene Houpe, who represented the Board of County Commissioners at the meeting, thanked Johnson for his contributions over four decades.
"Congratulations on your next chapter. Thank you for all your impacts on Iredell County," Houpe said.
Cloverleaf Elementary School Principal Andy Mehall, who spoke on behalf of the I-SS principals, thanked Johnson for his tremendous leadership to the district and for pushing principals to not accept mediocrity.
"Many lives have been touched. Many lives have been changed based on your vision for this county," Mehall said.
Mehall said that Johnson's light is always on at the Race Street central office and that the long hours he has put in are appreciated. Johnson always made time for principals and others who needed him any time of day, he added.
The principals gave Johnson a "Fun and Sun pack" with a pool inflatable and other items for Johnson and his family to enjoy.
Following Mehall's remarks, the board presented Johnson with a custom-made rocking chair.
"We've often said Mr. Johnson rocks," Chairman Page said. "The board had this made for you at Troutman Chair. We want you to continue to rock."