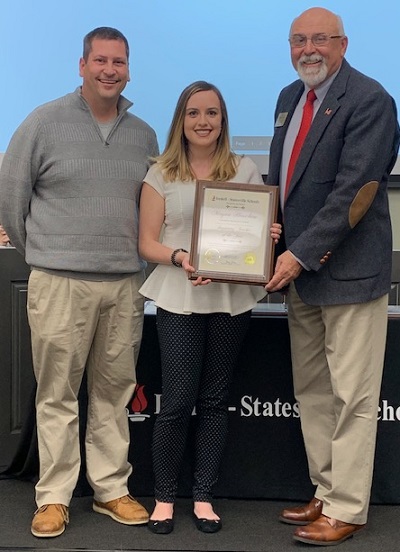 Special to Iredell Free News
Lakeshore Elementary School first-grade teacher Megan Houchins was recently honored as a finalist for the North Carolina Beginning Teacher of the Year Award.
The award recognizes Houchins for being one of the top new teachers in the state during the 2018-2019 school year.
Houchins was nominated Principal Chris Grace. She was selected as a regional finalist and then as a state finalist. There were 140 applications to the state, and Houchins was one of 28 finalists.
She began working at Lakeshore Elementary at the start of the 2018-2019 school year after graduating from the West Virginia University.
"As we interview teachers for positions, there are times when you can tell someone is going to be a great teacher, and this was the case with Megan," Grace explained. "From the beginning she has shown extreme dedication to the teaching profession and to her students. Megan was such a leader her first year, that she is partly responsible for our school becoming a Responsive Classroom school. If you walked into her classroom, her interaction with students and integration of technology would tell you she's a veteran teacher — not a first or second year teacher.
"She is already exhibiting Master Teacher qualities and she is helping Lakeshore reach its fullest potential," Grace added.