Special to Iredell Free News
SCAN of Iredell has collaborated with WAME Radio for a night of awesome music featuring local bands to raise money for a great cause.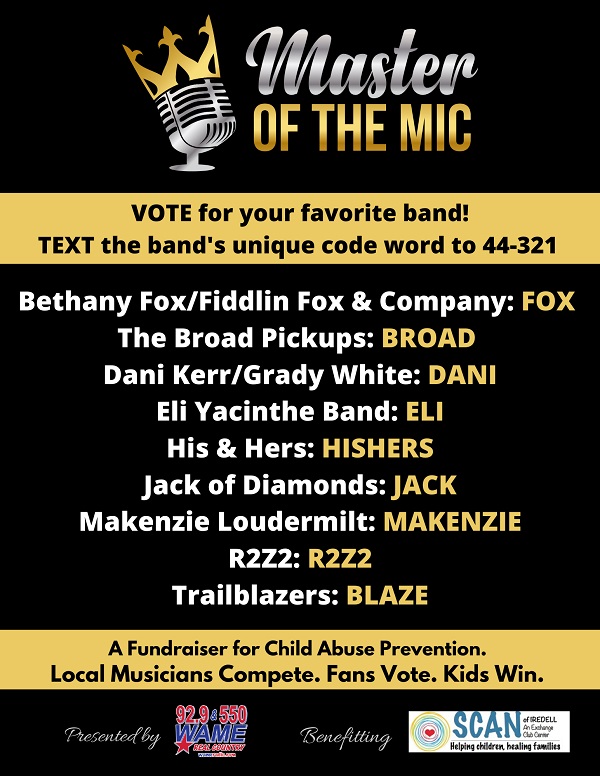 Master of the Mic will take place Friday, June 5, from 5 to 8 p.m. This friendly competition between bands is a great way to hear talented musicians and raise funds to help SCAN's mission to end the cycle of child abuse and neglect.
Nine bands will compete for the title of "Master of the Mic" by playing two songs each on the Piedmont HealthCare Clocktower Stage at the WAME Studio in Downtown Statesville. Listeners will choose the 2020 Master of the Mic by voting for their favorite band using "Text to Vote." Each band has a unique text code and each vote is $1, with all proceeds going to SCAN of Iredell.
At the end of the night, one band will be crowned the 2020 Master of the Mic! Cash prizes will be awarded to the top three bands.
Fans can listen on WAME Radio – Real Country 92.9 or watch the livestream on WAME's YouTube channel. The new Randy Marion Downtown Studio can accommodate a few audience members and the outdoor speakers will allow the Downtown crowds to be able to listen and vote from a comfortable distance as well!
The event will be hosted by the hilarious WAME Chillbillies and everyone's favorite ambassador, Melissa Neader. TEXT to VOTE ends at 8 p.m. and the winner will be announced shortly after.
In addition, SCAN will be making a big announcement around 8 p.m. so be sure to tune in!