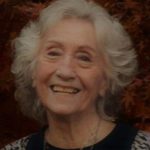 Betty Pittman Mandelik, 81, of Mooresville, N.C., passed away on Tuesday, June 2, 2020, at Gordon Hospice House in Statesville, N.C.
She was born October 9, 1938 in Crockett, Ky., to the late John and Sara (Fee) Pittman. Betty attended school in Benham, Ky., and moved to South Florida in the late 1950s. She worked several years in the Lighting Industry before retiring from Banking in the late 1990s. Betty was a beloved Mother, Mamaw, Sister, Aunt and friend, who had an absolute devotion to her family.
Betty is survived by her daughters, Tressea "Darlene" Haddix and Tammy "Raelene" Waters; sisters Lola Ferrell and Beulah Lockhart; brothers Ed (Jeanette) and Ted Pittman; grandchildren Cherise and Kristyn Haddix, Christopher and Erika Valdes, and Dakota Aspinwall; great-grandchildren Kyle and Alyssa Haddix, Christopher Andrew Valdes and Ella Rae Evans; and great-great-grandson Liam Henson.
In addition to her parents, she was preceded in death by her sisters, Freda Warf, Marie Bonecutter, and Jean Pittman.
No services will be held at Betty's request.
Cavin-Cook Funeral Home & Crematory, Mooresville, is serving the family. Condolences may be made to the family at www.cavin-cook.com.