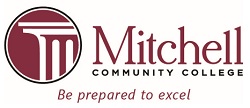 Special to Iredell Free News
Mitchell Community College recently announced the launch of Apprenticeship Iredell, a new work-based learning opportunity beginning in fall 2020. The goal of a registered apprenticeship program is to develop highly-skilled workers in Science, technology, Engineering and Mathematics (STEM) related fields. The program marries on-the-job training with classroom instruction, allowing participants to both learn and earn.
As part of the apprenticeship program, students are hired by an industry partner to receive on-the-job training while enrolling in a selected program at Mitchell Community College. In the model developed, apprentices work to complete essential competencies within a specified timeframe. At the end of the program, the apprentice will earn North Carolina and federal recognition as a journeyworker in the field along with an associate degree from Mitchell.
"As a sponsor of registered apprenticeships, the College has an opportunity to bring a proven method of workforce training to our industry partners while ensuring compliance with state and federal requirements. We will lessen the burden on employers and work alongside them to meet the demand for skilled workers in Iredell County," says Dr. Camille Reese, vice president for Instruction at Mitchell Community College.
For the launch of Apprenticeship Iredell, the College has partnered with Doosan Portable Power in Statesville. Doosan Portable Power has more than a century of manufacturing expertise and application experience.
The company currently faces an increased demand for local highly skilled workers in the mechatronics field. Mechatronics combines electrical, computer, and mechanical engineering to provide the support needed for growth in automation and manufacturing.
"We are very excited about this initiative and the opportunities it provides for our students," said Amanda Rhea, Mitchell's director of Educational Partnerships. "Apprenticeship Iredell enhances our partnerships with industry and makes our community and our workforce stronger!"
LEARN MORE
♦ Interested students and potential industry partners should visit www.mitchellcc.edu/apprenticeship.
♦ For more information on Doosan Portable Power, visit https://www.doosanportablepower.com.
About Mitchell Community College
Mitchell Community College serves 9,000 students annually through a variety of curriculum, continuing education and workforce development programs. With campuses in Statesville and Mooresville, Mitchell CC offers quality, affordable education options to residents of Iredell County and the surrounding area. For more information, visit www.mitchellcc.edu or call (704) 878-3200 (Statesville Campus) or (704) 663-1923 (Mooresville Campus).