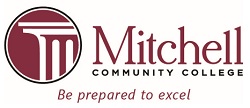 Special to Iredell Free News
Mitchell Community College's Mechanical Engineering Technology Program is currently partnering with the City of Winston-Salem Fire Department (WSFD) to create a turnout gear drying system. Turnout gear is the ensemble of personal protective clothing worn by firefighters.
Mitchell CC's Computer Aided Drafting (CAD) students are creating the engineering drawings for a gear-drying system. This design component is being incorporated into one of the college's senior-level capstone CAD courses (DFT 152).
Two gear dryers, each of which can dry up to five sets of gear at once, will be built utilizing parts supplied by the WSFD. The dryers will be constructed of PVC pipe with ambient air supplied by a two-horsepower, 15-amp blower. The Mitchell students' design may be able to be utilized by other local fire departments.
"This unique experience allows our students a hands-on approach in providing a modern-day solution to a real-world problem ensuring the safety and health of first responders," said Jamie Campagni, program coordinator for Mitchell's Mechanical Engineering Technology & Associate in Engineering programs.
The WSFD requested a turnout gear dryer to support efforts at reducing firefighters' risk of cancer posed by carcinogens produced when synthetics such as nylon, polyester, vinyl, and polyurethane burn.
Each of the department's 349 firefighters is issued two sets of turnout gear, and the gear is washed after every potential exposure to carcinogens. Concerns over occupational cancer in the fire service have increased in recent years, and laundering turnout gear is one of a number of steps the department has taken to reduce firefighters' risk.
The WSFD noted the department "has been proactive in lowering the risk of occupational cancer through education, policies, and procedures."
The department takes cancer prevention so seriously that it has changed the way its fire trucks and stations are designed.
About Mitchell Community College
Mitchell Community College serves 9,000 students annually through a variety of curriculum, continuing education and workforce development programs. With campuses in Statesville and Mooresville, Mitchell offers quality, affordable education options to residents of Iredell County and the surrounding area. For more information, visit www.mitchellcc.edu or call (704) 878-3200 (Statesville Campus) or (704) 663-1923 (Mooresville Campus).