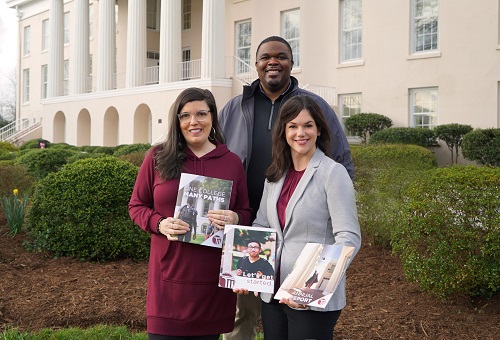 Special to Iredell Free News
Mitchell Community College's Marketing and Communications team was recently awarded three gold and three silver awards in 2019 national higher education marketing competitions.
The Marketing and Communications team won gold for both the 2018 Annual Report and a video ad entitled "You are Unique" and won silver for the Mitchell Starter Kit recruitment book in the 35th Annual Educational Advertising Awards. In the 2019 Collegiate Advertising Awards, Mitchell won gold for the Mitchell Starter Kit and silver for a video ad entitled "Let's Get Started." The team also won a silver award for the Mitchell Viewbook recruiting magazine in the 2019 National Council for Marketing & Public Relations (NCMPR) Medallion Awards.
Since 2017 the Marketing and Communications team has won seven other national awards for in-house produced video ads (Collegiate Advertising Awards: two silver, one bronze; Educational Advertising Awards: one gold, two silver, one bronze). Awards from 2019 bring their total to 12 over three years.
"Our team consistently goes above and beyond to design thoughtful, powerful, and professional print and digital pieces," said Megan Suber, director of Marketing and Communications. "We tell the story of Mitchell and strive to ensure our work makes an impact with future students, community members, and stakeholders. We are so proud that our work has received national praise from industry professionals!"
Submissions for the Educational Advertising Awards, Collegiate Advertising Awards and NCMPR Medallion Awards may be created by in-house talent or by professional design agencies. All of Mitchell's submissions since 2017 have been created by the in-house design team of three. The submissions have competed with and been honored on par with pieces designed by professional agencies.
"Our goal at Mitchell Community College is to serve our students with extraordinary quality," said Vice President for Advancement James Hogan. "Our Marketing and Communications team echoes that mission, and it's wonderful to see their hard work rewarded. It's especially gratifying to know that Mitchell's communications are all produced in-house, using local talent—something not every community college or university communications team can brag about."
About the Awards
The 35th Annual Educational Advertising Awards, sponsored by Higher Education Marketing Report, is the largest educational advertising awards competition in the country. This year, over 2,350 entries were received from over 1,000 colleges, universities and secondary schools from all 50 states and several foreign countries. Gold awards were granted to 294 institutions, silver awards to 201 institutions and bronze awards to 157 institutions. Judges for the Educational Advertising Awards consisted of a national panel of higher education marketers, advertising creative directors, marketing and advertising professionals and the editorial board of Higher Education Marketing Report.
The Collegiate Advertising Awards program is an elite national program created to honor today's marketing professionals for outstanding excellence in all forms of advertising, marketing and promotion specific to higher education products and services. All entries are centralized for judging by a panel of design and education marketing professionals with decades of combined experience. Entries are judged on Creativity, Layout/Design, Typography, Production, Quality & Overall Effectiveness.
The NCMPR Medallion Awards recognize outstanding achievement in design and communication at community and technical colleges in each of NCMPR's seven districts across the nation. Awards are presented to the top three finishers in each of 38 categories per district. Medallion Awards are announced at fall district conferences annually.
About Mitchell Community College
Mitchell Community College serves 9,000 students annually through a variety of curriculum, continuing education and workforce development programs. With campuses in Statesville and Mooresville, Mitchell offers quality, affordable education options to residents of Iredell County and the surrounding area. For more information, visit www.mitchellcc.edu or call (704) 878-3200 (Statesville Campus) or (704) 663-1923 (Mooresville Campus).