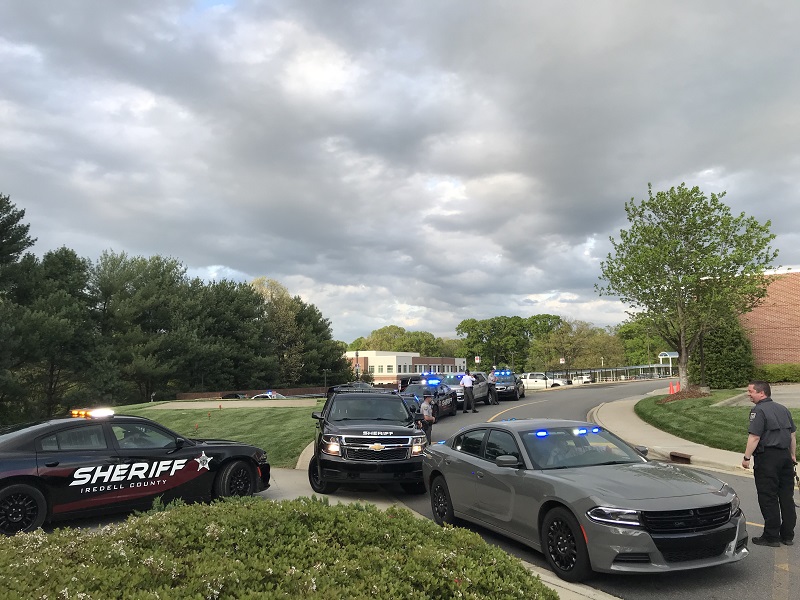 BY BRANDY TEMPLETON
Iredell County Sheriff's Office personnel showed their appreciation for healthcare providers at Iredell Health System and Davis Regional Medical Center on Tuesday.
Around 6:30 p.m. a group of deputies drove to each hospital and turned their blue lights on. Participants practiced safe social-distancing by parking away from medical workers and others.
Dozens of deputies wanted to say thank you, but were prevented from participating because of concerns over COVID-19, Sheriff Darren Campbell said. There have been 71 reported cases of the novel coronavirus in Iredell County, including two deaths.
"We wanted to make sure everyone was kept safe," Campbell said. "We followed proper protocol."
The sheriff said everyone at the ICSO truly appreciate what healthcare workers are doing for the community during the global COVID-19 pandemic.
"We just wanted to show our appreciation to the ones working on the frontlines of this," he said. "If they're not in there doing their jobs, then we won't be able to stay well."
John Green, the president and CEO of Iredell Health System, said the show of "support and solidarity" by the sheriff's office was very meaningful to the system's employees.
"Our staff, along with our first responders, work as a cohesive team for the safety and health of our community," Green said. "We appreciate the respect shown to us tonight. We feel that same respect for them. This was a great example of heroes saluting other heroes."