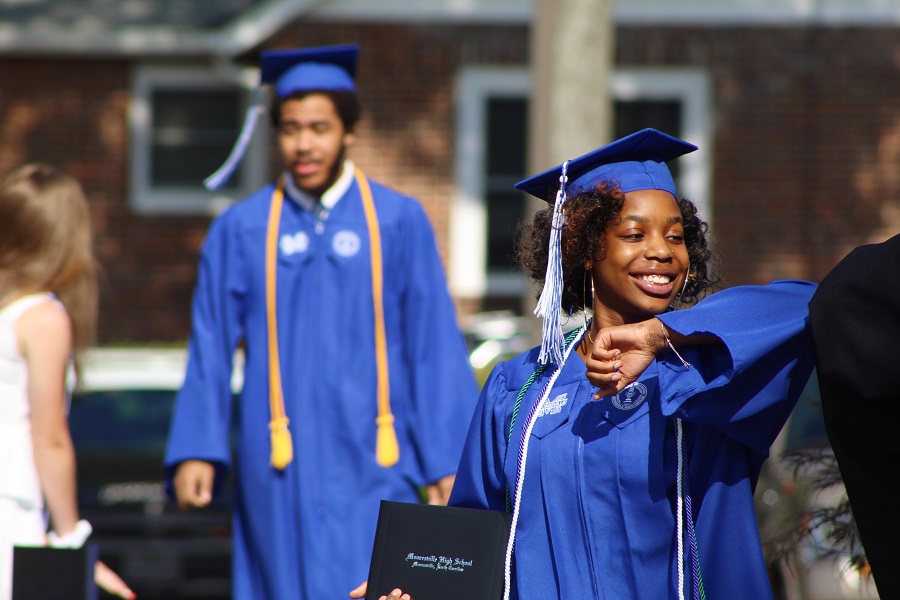 PHOTOS BY MORGAN HOOKS
STORY BY BRANDY TEMPLETON
Family and friends celebrated the conclusion of an unconventional year for Mooresville High School seniors on Saturday with an unconventional drive-thru graduation ceremony for the Class of 2020.
During a ceremony that spanned from the early morning until after noon, Principal Eric Schwarzenegger recognized 466 students, including Tristan Hunter Hobbs and Dillon Matthew Fail, both of whom both passed away before graduation.
Before graduates began walking, he shared that the class had been awarded a total of $2.3 million in scholarships and had persevered through trying times during the COVID-19 pandemic.
"You've experienced the loss of loved ones, been robbed of your senior year's best moments," Schwarzenegger said. "But you are bigger than the moment."
Honors speakers Richard Whitfield and Colby Dennis shared their thoughts as the event was live-streamed.
Dennis quoted Confucius.
"The journey of a thousand miles begins with a single step," he shared. "We're taking our first step on this stage. It won't be our last."
Dennis also joked that his class had the longest spring break in history. "We were out of school for 96 days," he exclaimed.
After sharing fun times the class did get to experience, he ended with a quote from the movie "Finding Nemo."
"In the wise words of Dory, 'Just keep swimming,' " Dennis closed.
Richard Whitfield had the highest GPA of his graduating class (4.65 weighted) and will attend UNC-Chapel Hill as a Moorehead-Cain Scholar. He noted how his last year had been an "unconventional one."
"It's easy to focus on what could have been," Whitfield said.
But he acknowledged the positive, relating the Coronavirus masks as symbolic to the Blue Devil's mascot head.
"I was the Blue Devil mascot," Whitfield shared. "When I put that mask on, it was as though I was more than myself."
He talked about how the "mask" often clouded his vision and was sweat-soaked, but he was still able to make people smile.
"My peripheral vision was distorted and my hearing was diminished," Whitfield said. "But I could still bring people together. Even with our masks on, we can give people a smile, give people a high five (when we're allowed to), initiate a conversation, and show others love."
He told the audience, "It's been my honor and privilege to dance the devil's dance."
Photo Gallery