BY DALE FOLWELL
RALEIGH – North Carolina is reeling from more than 1 million new unemployment claims filed since mid-March, triggered by an economic virus that demands action equal to the medical response to the COVID-19 virus.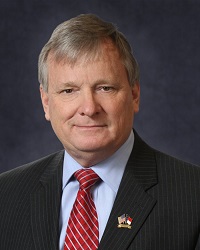 As someone who overcame the novel coronavirus, I appreciate more than most the focus on the sick, but we can't punish the healthy in the process. We must flatten the infection curve, but we also must bend down the increased joblessness and business restrictions. The artificially restrained economic activity has blown an estimated $3 billion to $4 billion hole in the state budget, and will financially devastate many towns, counties and other local government entities.
The cause for concern is simple. Government-ordered lockdowns prevent people from moving about freely in their normal routines. They can't consume goods and services at shuttered businesses. When they can't consume, then fuel, sales, occupancy and other tax collections shrink. This is going to negatively impact funds for public education, public safety, public works and public roads.
People don't care what political party you are affiliated with; they just want their problems fixed. Right now, their problem is food and job insecurity. Those who have lost their jobs are being deprived of the joy of achievement and the power of upward mobility.
This downturn has the potential to create economic inequality, not just among individuals but on regional levels. It will take years to recover, and families with least will suffer more. Some rural counties that had just barely climbed out of the 2008 recession are plunged right back into a very challenging financial crunch.
The Department of State Treasurer's Local Government Commission (LGC) is watching the situation closely. The LGC is charged with issuing all local and state debt (tax-free bonds and other debt instruments) and monitoring municipalities and counties, airports, boards of education and charter schools, housing authorities, water and sewer districts, regional libraries and other entities to ensure payments are being made. The commission places local governments on a watch list for risk of insolvency, and that number could increase in the wake of the economy-stifling business restrictions that were enacted in response to the virus.
The good news is North Carolina has the potential to pull out of these economic doldrums faster and stronger than anyone. We came into this crisis with more than $4 billion in the unemployment trust fund, in excess of $2 billion in unappropriated budget money and over $1 billion in the rainy-day fund. Since then we've received $4 billion in federal CARES Act relief money.
But we need to learn lessons from this experience. As we respond to this and future setbacks, we must have greater transparency and data-sharing to create the right policies. A good place to start would be more frequent, more open Council of State meetings. Rather than giving information from scripted press conferences, the governor should be more inclusive in seeking counsel from the other nine statewide elected officials who have years of experience and insight. This will help us develop not just the best, but the consistently best responses. I stand ready and willing to be part of that needed change.
Dale Folwell is the state treasurer.