Video of Press Conference
Statesville Branch NAACP president: 'Our role is to shed light on this growing issue of concern.'
STORY BY MIKE FUHRMAN
PHOTOS BY MORGAN HOOKS

State and local NAACP officials publicly criticized District Attorney Sarah Kirkman on Wednesday for failing to meet with them to discuss the long periods of time that many individuals charged with crimes spend in jail awaiting trial in Iredell County.
"Our role is to shed light on this growing issue of concern," Statesville Branch NAACP President Todd Scott said during a press conference held in the shadows of the new $26 million Iredell County Detention Center expansion.
Scott and Amos McClorey, the District 3 NAACP state director, raised concerns about the bond system, the commitment and effectiveness of court-appointed attorneys, the district attorney's management of the criminal docket and the availability of judges for trial in Iredell County.
All of those factors, they said, have contributed to an unacceptable system that keeps men and women who have not been convicted of a crime in jail for an unacceptable amount of time.
Thirty-eight people have been held in the jail for more than 365 days, according to records provided by the Iredell County Sheriff's Office on Tuesday. Among those 38 people, 29 are African-American.
Samuel Tyrone Young currently holds the distinction of being jailed the longest while awaiting trial. He has been behind bars for 1,524 days while awaiting trial on numerous felony charges, including first-degree rape and statutory rape.
"Fifteen-hundred days and not one day in court is not the answer," Scott told the small crowd that attended the early afternoon press conference. "That is costing taxpayers every day. … Y'all should be outraged."
Kirkman, Scott and McClorey said, has not been willing to sit down with NAACP officials in person to discuss their concerns and possible remedies.
Scott wrote to the district attorney on June 5 to request a meeting to discuss more than a half dozen individuals whose families are concerned about their long-term confinement. Although Kirkman responded by email, the NAACP president said the matter warrants a face-to-face discussion.
"You are an elected official," he said. "That is disrespectful."
McClorey, who is a member of the Cabarrus County Branch NAACP, said Kirkman should be held accountable for the situation. Defendants who are charged with nonviolent offenses should have affordable bonds so they can work and support their families while awaiting trial.
"We say, 'Vote her out of office,' " he told the crowd. "Enough is enough."
Kirkman, who is running unopposed in the November election, issued a statement in response to the criticism.
"Our justice system provides safeguards for Due Process," she said. "Defendants are afforded the opportunity to have court-appointed attorneys represent them, and those attorneys, as well as privately retained attorneys, are able to make motions regarding bond, probable cause and speedy trial. As for those who are in custody awaiting trial, the District Attorney does not set their bonds; bonds are set by a judicial official – either a magistrate, a District Court Judge or a Superior Court Judge – and only judicial officials may modify bond amounts."
Read Kirkman's entire statement: HERE
Near the end of the press conference, which attracted a crew from WBTV in Charlotte, Scott read off the number of days that nearly 20 individuals have been jailed without trial:
"Fifteen-hundred days, 1,471 days, 1,073 days, 1,067 days, 946 days, 895 days, 784 days, 768 days, 762 days, 736 days, 735 days, 713 days, 688 days, 676 days, 664 days, 663 days, 658 days, 565 days and it goes on," he said.
"Imagine that was your kid. What if they were innocent?"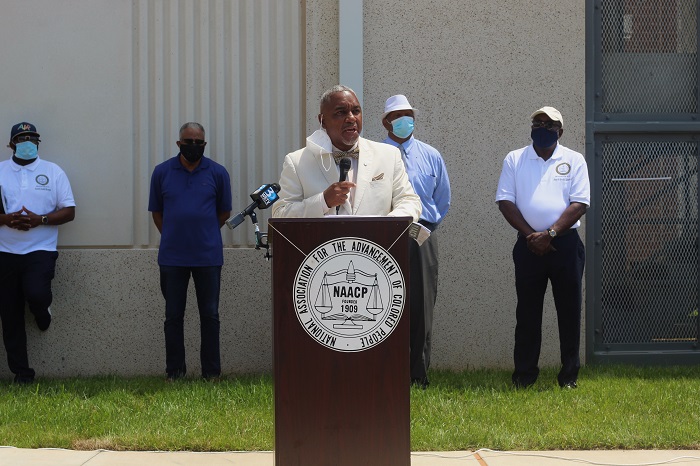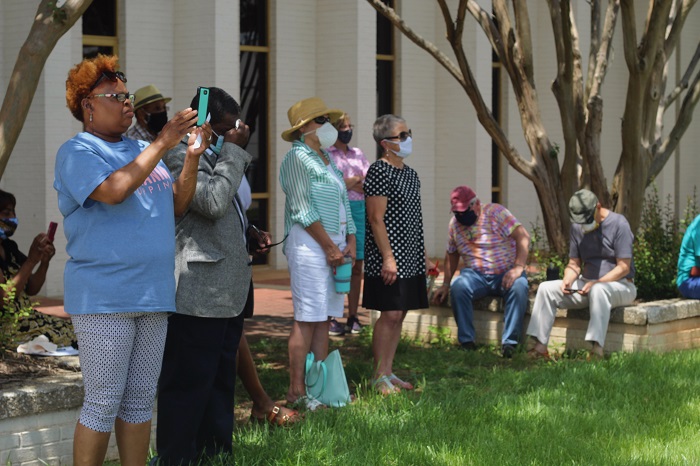 Jailed for More than a Year
The following individuals have been held in the Iredell County Detention Center for more than one year while awaiting trial:
Samuel Tyrone Young
Days in Custody: 1,524
Charges: Numerous felony charges, including first-degree rape and statutory rape
Joseph Nicholas Shaver
Days in Custody: 1,471
Charges: Numerous counts of first-degree sex offense against a child and indecent liberties with children
Jamel Thurston Conner
Days in Custody: 1,073
Charges: Kidnapping, robbery, assault, possess weapon of mass destruction, first-degree sex offense
Brentley Jason Byers
Days in Custody: 1,067
Charges: Statutory rape of child by an adult, statutory sex offense of child by an adult, intentional child abuse inflicting serious bodily injury
Thomas Jeffrey Wilson
Days in Custody: 946
Charges: Two counts statutory sex offense with a child by an adult, two counts of indecent liberties with children, and first-degree sex offense
Fredrick Anthony Cherry
Days in Custody: 895
Charges: Assault with deadly weapon with intent to kill, robbery, two counts of first-degree murder, robbery with dangerous weapon, breaking or entering, possession of schedule VI controlled substance with intent to manufacture, sell or deliver a schedule VI controlled substance
Zachary Scott O'dor
Days in Custody: 784
Charges: First-degree sex offense, two counts of indecent liberties with children
Antwon Deo Taylor
Days in Custody: 768
Charges: Conspiracy and murder
Brenda Kaylee Gabrielle
Days in Custody: 762
Charges: True bill
Marquis O'bryan Peet
Days in Custody: 736
Charges: First-degree murder, possession of a firearm by a felon
Anthony Jamall Caldwell
Days in Custody: 736
Charges: First-degree murder, possession of a schedule I controlled substance with intent to manufacture, sell or deliver, possession of a stolen firearm
Anagee Nasere Chambers
Days in Custody: 736
Charges: Murder
Katisha Maria Bowman
Days in Custody: 736
Charges: Accessory after the fact
Rick Rashond Chambers
Days in Custody: 736
Charges: Murder, assault inflicting serious injury to LEO, disorderly conduct, rioting
Kevin Dontae Turner
Days in Custody: 736
Charges: Murder, assault on officer, resist, delay obstruct an officer
Jatavius Raheem Bowman
Days in Custody: 736
Charges: Murder
Keith Eugene Lackey Jr.
Days in Custody: 735
Charges: Attempted first-degree murder, assault with a deadly weapon with intent to kill inflicting serious injury, assault with a firearm on law enforcement officer
Geneva Moneek Cladwell
Days in Custody: 713
Charges: Three counts of attempted first-degree murder, three counts of assault with a deadly weapon with intent to kill inflicting serious injury, trafficking heroin
James Lattimore Springer
Days in Custody: 688
Charges: Attempted first-degree murder, robbery with a firearm, assault with a deadly weapon inflicting serious injury, possession of a firearm by a felon, assault on a female
Christopher Maurice Murphy
Days in Custody: 676
Charges: Assault with a deadly weapon with intent to kill inflicting serious injury, first-degree burglary, possession of a stolen firearm, possession of a firearm by a felon
Anthony Eugene Cottingham
Days in Custody: 664
Charges: Trafficking heroin, trafficking cocaine, possession of schedule VI controlled substance with intent to manufacture, possession of a firearm by a felon
Coy Milton Mcdaniel
Days in Custody: 663
Charges: First-degree rape, numerous counts of indecent liberties with children, and numerous counts of first-degree sexual offense (victim under 13)
Mario Alberto Chow
Days in Custody: 658
Charges: Two counts of indecent liberties with children, first-degree sexual offense (victim under 13)
Deonte Mysia Clark
Days in Custody: 595
Charges: Accessory after the fact
Jericho Montrell Neal
Days in Custody: 565
Charges: Attempted second-degree forcible rape
Gercobe Arnell McClain
Days in Custody: 516
Charges: Two counts of assault with a deadly weapon with intent to kill, injury to personal property and possession of a weapon by a felon
Jeremy Chauncy Teasley
Days in Custody: 491
Charges: Crime against nature, assault with a deadly weapon with intent to kill inflicting serious injury, first-degree sex offense and sexual battery
Okiera Donnell Myers
Days in Custody: 473
Charges: Murder, assault with a deadly weapon with intent to kill, and possession of a firearm by a felon
Shawn Keith Harris
Days in Custody: 473
Charges: Possession of a schedule II controlled substance
Kima Sharell Ivey
Days in Custody: 459
Charges: Multiple counts of statutory sex offense with a child (15 and under) and indecent liberties with children
Erik Jerard Ramsey
Days in Custody: 449
Charges: Multiple counts of robbery with a firearm or dangerous weapon
Kenneth Jamal Davis
Days in Custody: 447
Charges: Larceny of a motor vehicle, flee/elude arrest, and resist, delay or obstruct a public officer
Tommy Russell Pierce
Days in Custody: 441
Charges: Multiple counts of first-degree statutory rape
Tony John Young
Days in Custody: 440
Charges: First-degree murder
Eyian Valentine Robotham
Days in Custody: 389
Charges: Trafficking cocaine and maintaining a dwelling or vehicle for controlled substances
James Edward Emanuel
Days in Custody: 388
Charges: Driving while impaired, true bill
Azontay Vontavius Sherrill
Days in Custody: 366
Charges: Murder, assault with a deadly weapon with intent to kill inflicting serious injury and conspiracy
Quinton Queshon Kasey
Days in Custody: 366
Charges: Murder, assault with a deadly weapon with intent to kill inflicting serious injury and conspiracy