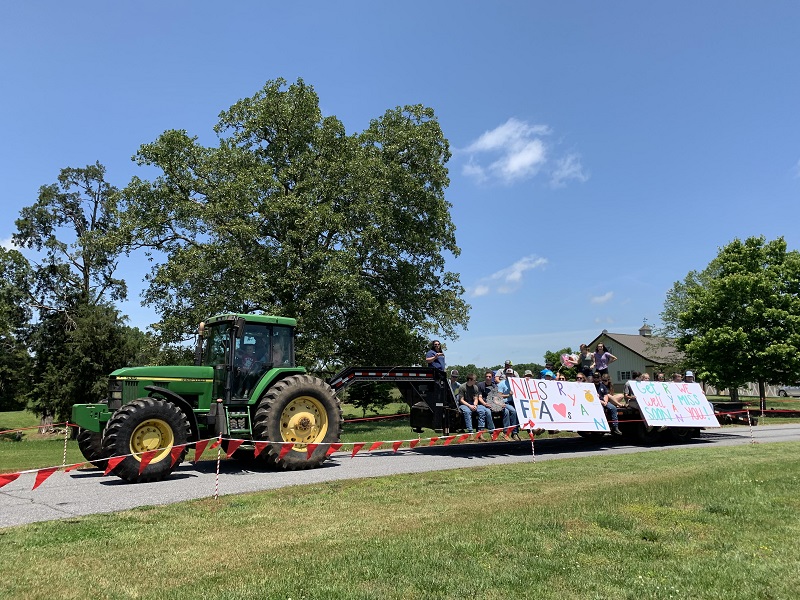 BY BRANDY TEMPLETON
Ryan Baldwin, 18, was surprised and humbled by the outpouring of love he received from the community on Saturday.
For two hours, friends and community members drove by in trucks, motorcycles, service vehicles, and a tractor to wish the North Iredell High senior well.
Ryan was recently diagnosed with Stills Disease, a rare inflammatory disorder. He spent 16 days at Wake Forest Baptist Medical Center fighting for his life.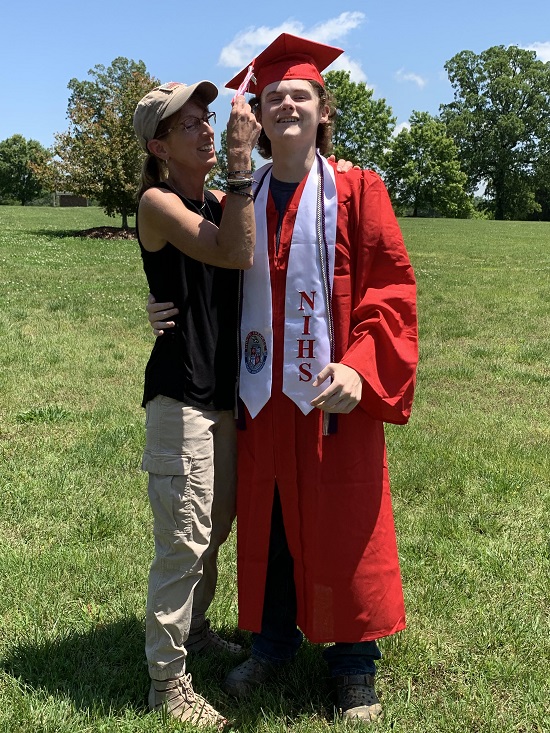 Unfortunately, he missed out on North Iredell's drive-up graduation ceremony.
Family friend Melissa Neader — whose son Nick is Ryan's friend — stepped in to help organize Saturday's event.
"They've been BFFs since elementary school," Neader shared. "We used to joke they were twins from a different mother."
Neader felt bad that Ryan missed out on the graduation event and the trials his family endured during his hospitalization.
"You hear about all these people adopting seniors," she said. "I thought that the whole community needs to adopt Ryan."
Neader arranged for the surprise drive-by and personal graduation for Ryan at her home.
Ryan greeted visitors as they presented him with signs, balloons, baked goods, cards, and gift cards.
"It was surprising," he said. "I wasn't expecting none of it. I didn't even know I was graduating."
A huge surprise came when North Iredell High Principal Diana Jones drove up and presented Ryan with his diploma.
"I'm glad to be here," Jones said. "I hope he's going to be okay."
Baldwin's mother, Stacy, experienced a wide range of emotions on Saturday, alternately smiling and crying as people greeted her son and she shared stories about the 12 days she spent with Ryan in the hospital.
"It was overwhelming," she explained. "I would just sit and cry. He could have easily been gone."
She's very grateful for everyone who has supported Ryan during his illness, especially nurse Kimber Potts, who also stopped by to visit on Saturday.
"She was there for my son when I couldn't be," Stacy said.
The Baldwins will have to make some changes in their daily routine due to Ryan's compromised immune system.
He can't be around large groups of people or be in direct sunlight, and he's taking daily shots until his physician says he doesn't need them anymore.
Ryan also can't work for the time being, and he already misses operating heavy equipment for Tucker Hauling and Grading.
But he's looking forward to doing normal teenager things as soon as possible, like talking on his cell phone, hunting and fishing, and spending time with his girlfriend, Natalie Tucker.
Natalie stood by his side on Saturday until the last truck drove off.
"I'm pleased with how many people showed up," she said. "This was great."
Photo Gallery