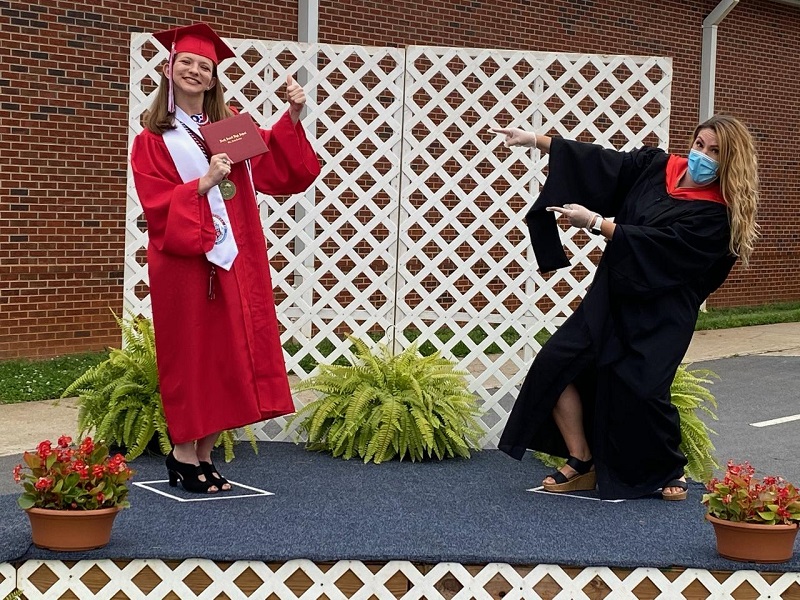 North Iredell High School students participated in a drive-up graduation ceremony the week of May 4-7.
BY KARISSA MILLER
North Iredell High School's stadium is usually packed with families and friends this time of year, watching and waiting to see their favorite graduate walk across the stage to receive their diploma.
Due to the COVID-19 pandemic and social distancing guidelines, North Iredell's 224 graduates participated in a unique drive-up graduation ceremony earlier this month.
Principal Diana Jones said all staff wore protective masks and gloves and followed social distancing guidelines by having no more than 10 people in their designated area.
"Each student was invited to come at a scheduled time and park in an assigned parking space," Jones said. "Families waited in their cars until their turn to come to the stage. Each student was allowed to bring four people closer to the stage with them at their time."
"They could have more in the car watching," she added.
Stepping out of their vehicles, each student received instructions on what to do as they got ready for their moment in the spotlight.
"I had the pleasure of welcoming each student and their family as they prepared to cross the stage," Jones said.
"We gave the parents a unique opportunity to announce their graduate to receive their diploma cover. Although there is a planned graduation in August, we never know what the future holds and their moment was now," she added.
For graduate Abigail Caldwell, this was a day that she felt supported and loved. She said that she has missed the in-person contact that she usually has with her teachers.
"It was very special because I got to see all of my teachers and everyone was there. When I did walk across the stage, they were all cheering for me and it was a happy moment," Caldwell said.
Abigail's dad, Scottie Caldwell, announced her name before she received her graduation diploma cover.
Jones said that the staff at North Iredell worked very hard to make this a special day for their grads.
The school's custodians put together a smaller version of the school's graduation stage and had it set up at the first of the week. Teachers and counselors worked hard to reach out to all seniors to make sure they could attend.
"Our school resource officer put his special photography skills to work as he and our yearbook coordinator set up a photo station in front of our school mascots," Jones said.
Students and families made the most of it, striking fun poses and taking pictures that they will cherish for a lifetime.
"This may not have been the graduation they expected but it will be one they will never forget," Jones said.
Photo Gallery