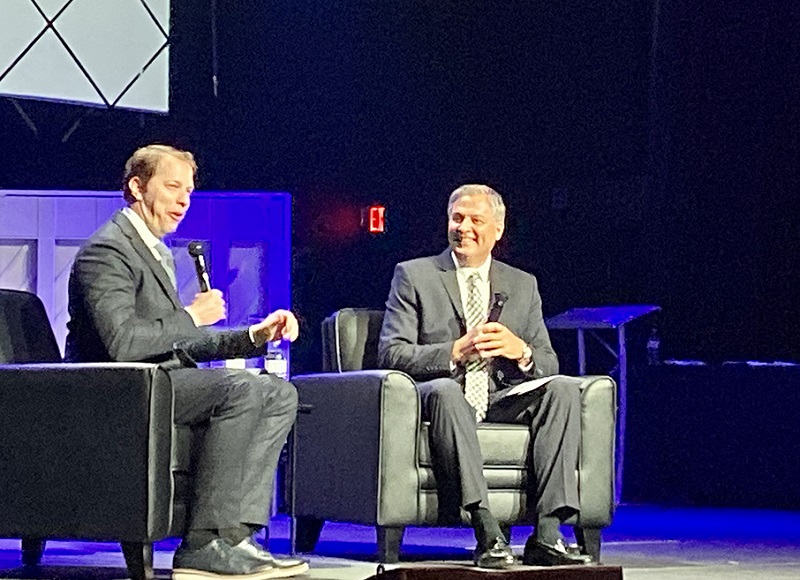 FROM STAFF REPORTS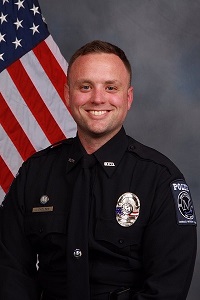 Mooresville Police Officer Jordan Sheldon was honored as Citizen of the Year during the Mooresville-South Iredell Chamber of Commerce's Annual Celebrate Business Luncheon & Community Excellence Awards on Tuesday.
A long moment of silence was followed by the audience of more than 500 people rising to their feet in honor of the MPD K9 officer who was killed in the line of duty on May 4, 2019. Mayor Miles Atkins presented the honor to Officer Sheldon's sister, Lauren, and his fiancée, Jamie Basham.
Also during the luncheon, Mooresville Ford's Jeff Shoe recognized the legacy of Valerie Hope Chamberlain and the impact she had on the community. Chamberlain, who passed away January 3, was director of the Mooresville Christian Mission.
NASCAR champion Brad Keselowski was the keynote speaker at the event, which was held at the Cove Church. During an interview with NASCAR Technical Institute's John Dodson, Keselowski discussed everything from the Daytona 500 – he's hoping this is his year — to the future of advanced manufacturing.
Keselowski said his roots in the Mooresville community are owed to NASCAR legend Dale Earnhardt Jr., who gave Keselowski his start back in 2004, with an invitation to race and live in Dale Jr.'s pool house.
Since then, Keselowski said Mooresville has become home, and he proudly describes his love for the town where he and his wife Paige and two children live.
"This is a terrific community … We've got it pretty good here and I'm thankful for that."
Keselowski drives for Team Penske, but has also expanded his business interests by founding Keselowski Advanced Manufacturing, a hybrid manufacturing company located in Statesville that specializes in additive metal technologies and CNC machining.
Keselowski discussed the concept of Industry 4.0, in which new technology will allow factories to advance far beyond current capabilities. These advancements, he said, are already beginning to bring back jobs that had moved overseas.
"A lot of the work is coming back thanks to Industry 4.0 initiatives," he said.
The Keselowskis have also created the Checkered Flag Foundation, which honors and assists those who have sacrificed for our country, including first responders and veterans.
"I truly believe we have a responsibility to take care of those who have served," he said. To support them and their families is very important to me."
Other Awards
♦ Dr. Susan Harrison received the Sara Haire Tice Women in Leadership Award;
♦ Greenworks, which produces cordless outdoor equipment, received the Mooresville Ford Business of the Year Award;
♦ Paul Kreins of Victory Lanes received the MSI Chamber Entrepreneurial Ward;
♦ Don Miller of Stocks for Tots received the Duke Energy Service Award; and
♦ Iredell-Statesville Schools Superintendent Brady Johnson received the Chairman's Award.