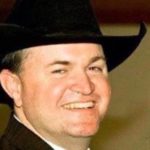 Thomas "Jason" Roberts, 48, of Hamptonville, N.C., passed away on Monday, February 3, 2020. He was born July 8, 1971, in Laramie, Wyo., to Paul Barton Roberts and Sally Bowen Roberts. He was a graduate of NW Cabarrus High School in Concord. He was employed by Cargill in Cleveland, N.C. Jason was best known for being a stock contractor for rodeos and bull riding.
In addition to his parents, Bart and Sally Roberts, he is survived by his wife Lacey Gamble Roberts; daughter, Jaden Roberts; son, Jett Roberts; sister, Jessi Roberts Bolatto (Adam); brother, Oran Roberts; nieces and nephews, Lane, Memphis, Harper and Cash; numerous family members; and those that loved who he was and his extended rodeo family.
Visitation for family and friends will be on Saturday, February 8, from 9 to 11:30 a.m. at Cavin-Cook Funeral Home. The service will begin at 11:30 a.m. in the Chapel of Cavin-Cook Funeral Home with Rev. Ben Bolton officiating. Burial will follow the service in Charlotte Memorial Gardens, 7632 Hood Road in Charlotte, N.C.
Cavin-Cook Funeral Home and Crematory is serving the Roberts family. Condolences may be sent to the family at www.cavin-cook.com.