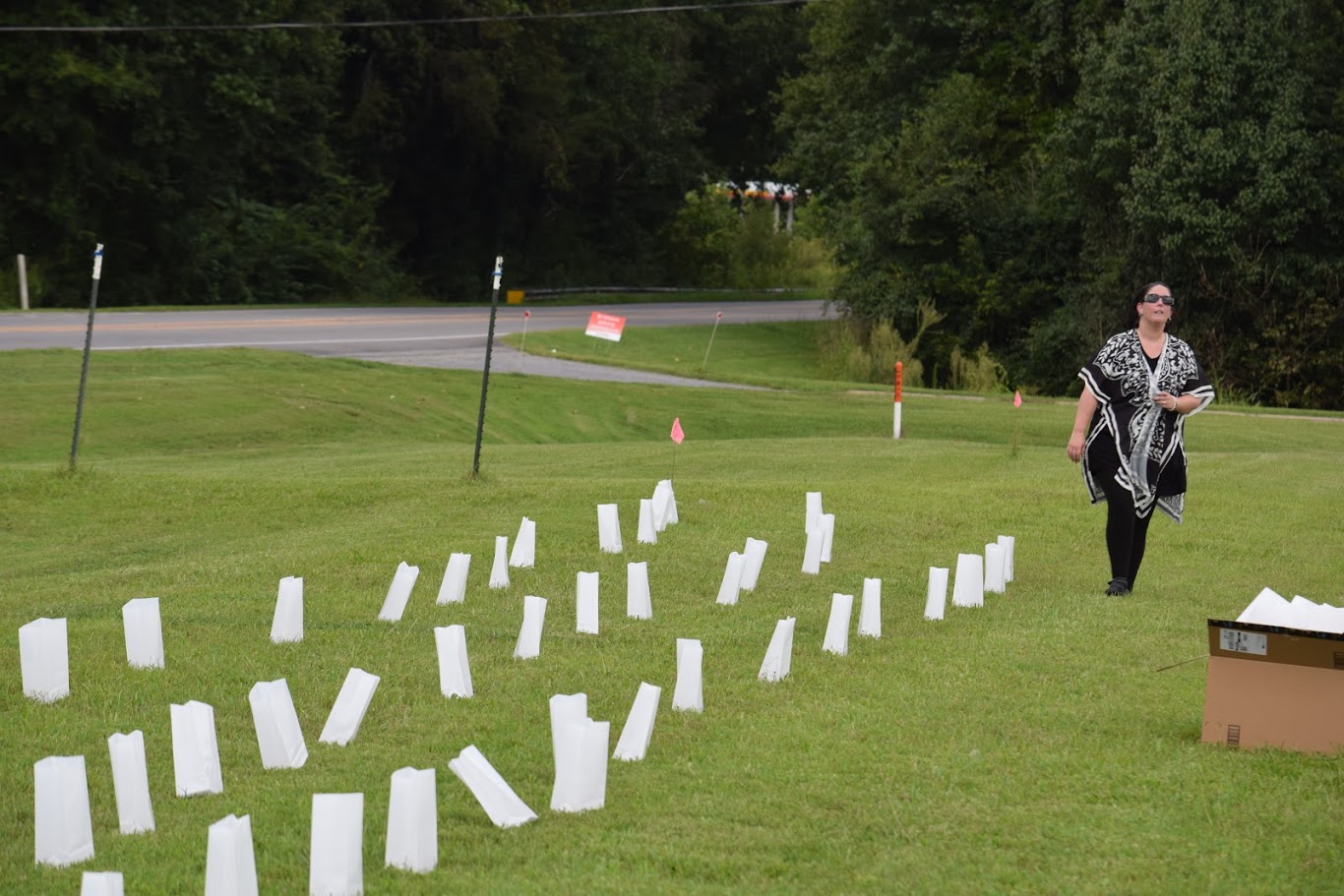 BY DEBBIE PAGE
debbiepage.iredellfreenews@gmail.com
In the quiet early evening, members of Celebrate Recovery and families affected by lives lost to drug overdose walked quietly among the glowing luminaries, pausing to reflect and remember.
The second annual event, delayed from August 31 because of torrential storms in the area, was organized by the Drug-Alcohol Coalition of Iredell and held on the spacious front lawn of Christ Church on Wilkesboro Road to allow for social distancing.
DACI Director Jill McLelland said that the 317 luminaries glowing on the lawn represented lives lost to overdose in Iredell County from 2008-2018. Final data for 2019 has not yet been released, but McLelland noted that overdoses are "up significantly for 2020."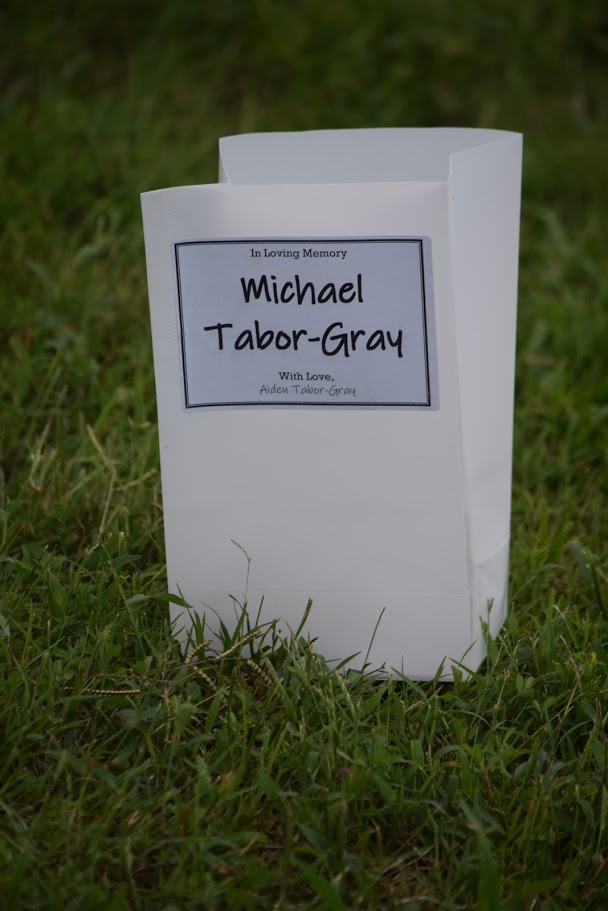 This event is an important annual ritual for the community "to raise awareness of the overdose crisis that we have in Iredell County," she said. "I think that oftentimes that folks hear about it, but when we start talking about numbers, if people can relate that to lives that have been lost, it starts to become a little more real."
McLelland pointed out that these luminaries represent lives lost to overdose, not the number of total overdoses in the county. "This does not include the hundreds more that have experienced an overdose and survived," often with permanent damage.
"It's also important for the friends and families who have lost their loved one to overdose to be able to come together and to celebrate their memory and to celebrate their lives and not have the stigma that often surrounds an overdose death."
McLelland was pleased that Christ Church stepped up to offer its facility for this year's vigil.
"Christ Church has always been supportive of the coalition and the work that we do," she said. ""They are very active in the addiction and recovery community with their Celebrate Recovery and their prison ministry. They are just very supportive of the population that we work with."
Since the event was rained out on Monday, McLelland decided to coordInate the rescheduled vigil with the church's weekly Celebrate Recovery meeting on Thursday night.
The funds raised from the purchase of the luminaries will be used to help put on next year's overdose awareness event.
TAKE-BACK EVENT SET FOR SEPTEMBER 9
McLelland also invited the community to DACI's "Take-Back" event on Wednesday, September 9, at the Statesville Citizens Center from 5:30 to 7:00 p.m. The group will be collecting unused and expired OTC and prescription medications and, for the first time, used sharps as well.
Donors should obscure any personal information on the medication label with a black felt tip marker before bringing it to a dropbox location.
DACI will also distribute free medication lockboxes to help community members protect their families from harmful prescription medicines.
McLelland is excited about the addition of sharps collection to DACI's mission. Many individuals manage their care at home by using syringes to inject insulin or using lancets to test blood glucose. In addition, drug users also need to dispose of used syringes and needles.
Safe sharps disposal is critically important to community and environmental health, safety, and protection. People can be injured or be exposed to blood borne diseases such as hepatitis or HIV because of contact with needles in trash cans or those thrown down in parks or other public areas.
Disposing of unused or unwanted medicines decreases the risk for accidental or deliberate misuse. The majority of prescription drug abusers first obtained their drugs from friends' and family's medicine cabinets.
According to the U.S. Drug Enforcement Agency, about 80 percent of new heroin users began their habit by abusing prescription opioid painkillers.
Disposing of medications at a Take Back event or collection dropbox also protects the environmental from the impact of drug residues entering water supplies or lakes and rivers.
The items collected will be turned over to law enforcement to be safely destroyed.
COUNTY DRUG DROPBOX LOCATIONS
If you cannot attend this take-back event, DACI has placed collection boxes throughout the county and plans to add sharps collection boxes in the next few months.
♦ Statesville Police Department, 330 South Tradd Street, Statesville. Available 24/7.
♦ Iredell Memorial Hospital – Emergency Department entrance. Available 24/7.
♦ Iredell County Sheriff's Office, 230 North Tradd Street, Statesville. Open Monday-Saturday from 8 a.m. to 5 p.m.
♦ Troutman Police Department, 400 Eastway Drive lobby area. Available 8 a.m. to 5 p.m. Monday through Friday.
♦ Mooresville Police Department, 750 West Iredell Avenue, Mooresville. Available 24/7.
♦ Cannon Pharmacy, 521 E Plaza Drive, Mooresville. Available Monday through Friday, 9 a.m. to 7 p.m., Saturday 9 a.m. to 4 p.m., and Sunday, noon to 4 p.m.
Photos