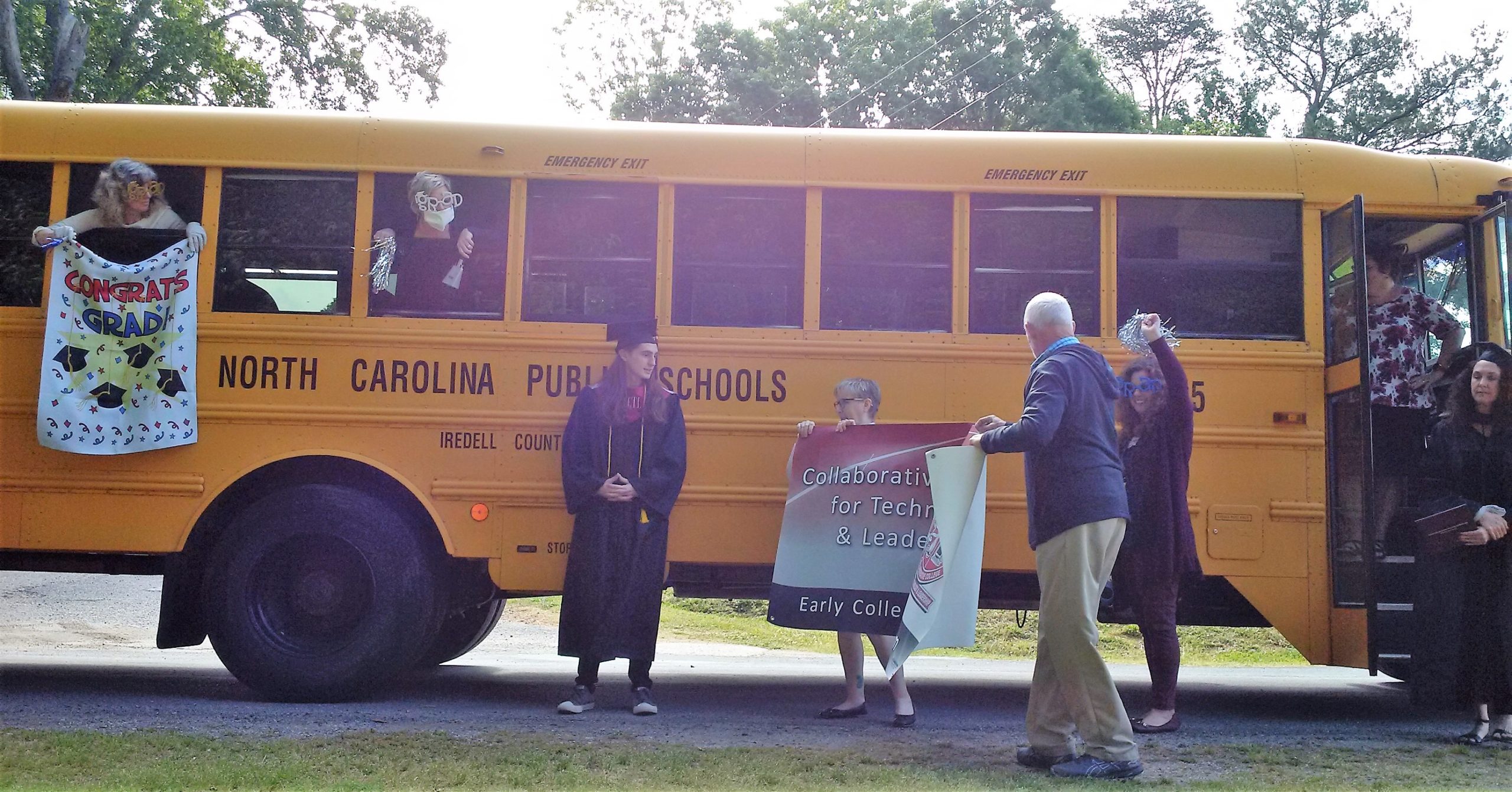 BY KARISSA MILLER
Whenever Principal Teri Hutchens meets new students at Collaborative College of Technology and Leadership, she welcomes them not only to the school but also into the CCTL family.
That family attitude motivated Hutchens and her staff to look for ways to make up for the loss the Class of 2020 is experiencing following the postponement of graduation due to the COVID-19 pandemic.
"We gave students a choice of a mailbox graduation or attend the drive-through at Mitchell" on Friday, Hutchens explained.
"We wanted to honor the kids and make them feel special. We are a small school so it's easier to do things."
Fifteen of the 41 grads signed up for mailbox graduations. While Hutchens and her staff had already coordinated special gifts and events for the Class of 2020 prior to this event, she had a few more surprises in store on Thursday.
On Thursday morning, when grad Christian Hamel, dressed in his cap and gown, and his family stood outside their home, they knew the day would be special, but they had no idea what CCTL officials had in store.
The family did a double take as a big yellow school bus pulled up to their mailbox. Neither Christian nor his mom, Leigh Ann Branton, knew that about 15 staff members had hopped on the school bus to celebrate his accomplishments.
Even before they stepped off the bus, staff members were holding signs out the window, waving noise makers in the air and cheering congratulatory wishes to the senior.
When the bus door opened, Hutchens congratulated Christian and conducted his ceremony as family filmed from the house.
"We have a 2020 graduate – high school and college," Hutchens said.
"It feels surreal. All the hard work I've put in over the years has finally come to fruition," Christian said. "Especially with the bus coming out to my house — I didn't expect all that."
He opted to do graduation at home because of the personal touch. His career at CCTL has helped him grow in ways he never expected, Christian said
"I'm proud of him that's for sure. He's worked very hard," his mom said.
After Christian's mailbox graduation ended, the staff boarded the bus and traveled down the road to another house.
Makayla Warren, who is graduating with an associate degree in engineering and high school diploma, had a big smile on her face as she stepped out of her home.
"How did Physics go?" Hutchens asked.
"I got an A," Makayla said.
Her principal, the staff, her family and neighbors all cheered.
Mom Lorrie Warren's eyes were filled with tears as she watched Makayla's ceremony unfold.
"It's really touching. I did feel like they have gone through a lot this year—missing out on prom and all the offerings you would have your senior year," Warren said. "This group of people at CCTL are just extraordinary."
Makayla will continue her studies in engineering at N.C. State University in the fall. In honor of this accomplishment, Makayla's mom and her dad Brad, brother Brice and the CCTL staff pushed their fingers together and threw up the university's Wolfpack sign as they posed for a picture in front of the bus.
Graduate Logan Cashion had a small, yet intimate ceremony at his house.
He was joined by his dad, Ruben Cashion, who said he was thrilled to watch the school community rally to support his son.
"I'm very excited how they've done it … with all the teachers. I wasn't expecting all that excitement and fun," the proud dad said.
Logan and his dad consider themselves to be very close friends. In fact, during the stay-at-home order Ruben said that he was glad to have him around the house to help out with their farm.
Logan is still undecided on where his academic career will take him next, but he wants to continue learning.
'It really hasn't set in. I was like tomorrow he's graduating. I wasn't really excited at all, but today it just keeps growing. It will probably really hit me hard later," his dad said.
About CCTL
CCTL is an early college high school program. Students can earn both an associate degree and high school diploma. The campus is located at Mitchell Community College.
Photo Gallery