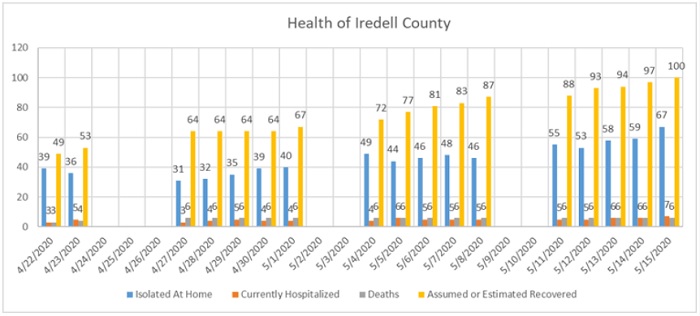 FROM STAFF REPORTS
There are now 180 confirmed cases of COVID-19 in Iredell County.
The Iredell County Health Department reported four new cases on Thursday and 12 more on Friday.
Among the 180 confirmed cases in Iredell County:
♦ 67 people are isolating at home;
♦ 7 people are hospitalized;
♦ 100 people are assumed recovered; and
♦ 6 deaths have been attributed to COVID-19
According to health officials, 88 of the cases are in the south end of the county, 60 are in the central region and 32 are in the northern end.
The N.C. Department of Health & Human Services has reported a total of 17,129 laboratory-confirmed cases across the state.
Some 641 deaths in North Carolina have been attributed to COVID-19, and 492 people are currently hospitalized across the state.
COVID-19 Cases in Surrounding Counties
♦ Mecklenburg: 2,385 cases; 62 deaths
♦ Cabarrus: 370 cases; 19 deaths
♦ Rowan: 517 cases; 25 deaths
♦ Davie: 43 cases; 2 deaths
♦ Yadkin: 92 cases; 1 death
♦ Wilkes: 287 cases; 1 death
♦ Alexander: 15 cases; 0 deaths
♦ Catawba: 92 cases; 2 deaths