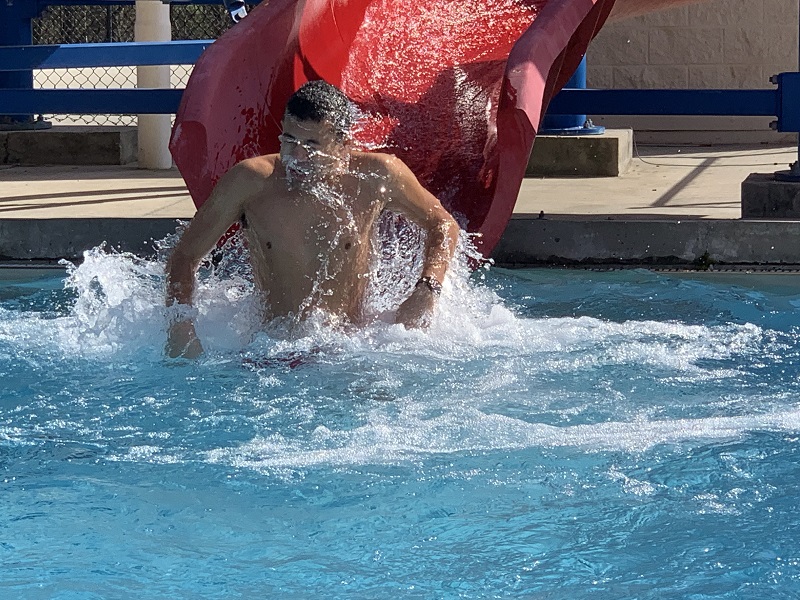 BY BRANDY TEMPLETON
After testing the waters at the Statesville Leisure Pool on Friday, program director Kali Moore wanted to make sure participants in the 2020 Polar Plunge got their money's worth.
Her team added some ice to the pool on Saturday, chilling the water to a perfect 36 degrees before the start of Saturday afternoon's event.
Sadie Purdue and her friend Alyssa Houston were among those who zipped down the waterslide into pool.
"It was breathtaking," 11-year-old Sadie said afterward.
The annual event raises money for the Iredell County Special Olympics. Even though the turnout was lower than in previous years, Moore was grateful for those who took the plunge.
"The proceeds help participants play the games they enjoy," she said.
Beth Henry came out to support her 14-year-old son Nathan.
"He's been participating in the Special Olympics for five years now," she said. "He's playing basketball next week, but he really likes shot put."
Brandon Parker and his 8-year-old son David slid down the slide after the other participants were gone.
"It was refreshing," Brandon said.
For lifeguard and assistant pool manager Xavier Bauguess, it was a transformative event.
"It was fun, but very very cold. I feel like a new man," he joked.