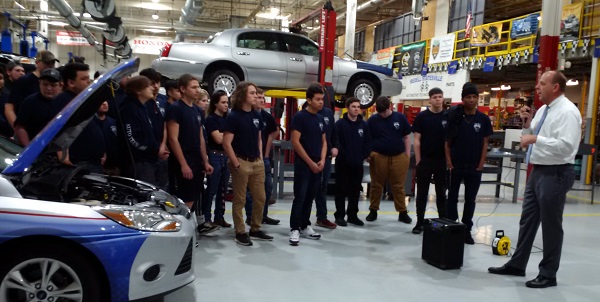 BY KARISSA MILLER
Most teenagers dream of being handed the keys to car they can call their own.
Students enrolled in the Career Academy and Technical School's automotive technology program got a new vehicle on Tuesday, but it's not for cruising around. The 2014 Ford Focus SE will be used for hands-on training that will give students a better understanding of the inner workings of today's vehicles.
Junior Zach Stump and senior Tyler Castle were among the students who are excited about getting under the hood of the Ford Focus.
"A lot of schools simulate issues, but here we get to work out the real problems. I think that's one of the best things about this school," Castle said.
Randy Marion Automotive donated the vehicle to the CATS automotive program on Tuesday afternoon.
Teacher Ashley Pope said the donation would make a difference in the quality of education the students receive at CATS.
"We work on various year model vehicles, but it's rare for us to work on one that's new because they don't require as much service. We don't get the opportunity to work on the insides, the brains of it," Pope said.
Rhyne Scott, general manager of the Randy Marion Chevrolet and Ford-Lincoln dealerships in Statesville, said the vehicle was recently reacquired by Ford and given to the dealership to donate to CATS.
Scott said Randy Marion Automotive has had a long partnership with CATS. He also mentioned that he was in the first I-SS automotive class with board chairman Martin Page.
Nathan Reavis, the Service Department manager at Randy Marion, said the dealership partners with programs like CATS to identify and recruit young talent.
There automotive industry is dealing with a shortage of qualified technicians. Reavis noted that Randy Marion also pays for students to receive training while earning a paycheck.
Randy Marion currently has four students working in its stores. One student is being sponsored by the store to receive training and will receive full technician credentials.
Students are sent to the Ford ASSET (Automotive Student Services Educational Training) program is offered at Guilford Tech. The program allows students to get on-the-job training at sponsoring Ford and Lincoln dealerships while earning an Associate Degree in Automotive Systems Technology.
According to Jennifer Alterman, Ford Regional Technical Talent Placement Specialist, the program, known as New Ford Tech, started in 2018 to assist students in internships, job shadowing, work-based study programs in Ford dealerships.
Randy Marion's daughter, Jennifer Marion Mills, presented the car to the CATS automotive tech department. Principal Larry Rogers and Iredell-Statesville Board of Education Vice Chairman Chuck Gallyon were on hand for the presentation.
"We at CATS are grateful for the generous support of Randy Marion," Rogers said.
"This is another sign of the progression of our program and how great it is and how far ahead we are," Gallyon added.