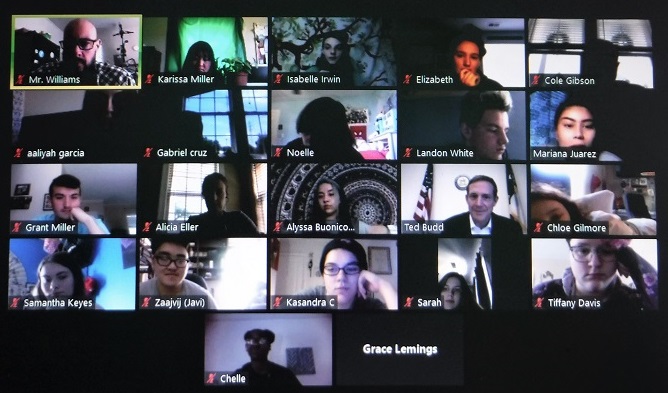 BY KARISSA MILLER
Crossroads Arts and Science Early College civics teacher Michael Williams is committed to helping his students understand how local, state and national government work.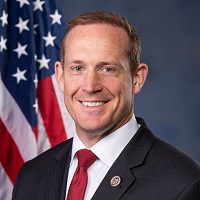 Due to the coronavirus pandemic, Williams and other teachers have been forced to teach remotely. This week he invited U.S. Rep. Ted Budd to talk with his students via Zoom for about an hour.
Seated in front of their laptops, the students entered the online platform just before 2 p.m. With their cameras turned on, each student gave a thumbs-up to indicate that they were ready to meet.
"We're meeting and discussing things like we normally do," Williams said. "The only thing that's changed is we're meeting remotely."
"I have some students that are also working while learning remotely," he added.
Student Grant Miller facilitated Tuesday's session with the Republican congressman. Miller wrote Budd a letter about banning the use of plastic bags in grocery stores. "I'm more curious about how you would start a bill and get it passed into law," he told Budd.
Budd said that when constituents reach out to him about specific issues, he first checks to see if there is legislation associated with that particular topic and then decides if it is something that they want to support or not.
With the coronavirus pandemic, "People that were anti-plastic bag are saying, 'Hey, we're going to have to use them now,' " Budd explained. "A lot of the concern for that is around … a big area in the Pacific Ocean … almost an island — that's what driving a lot of the U.S. concern for eliminating non-reusable plastics."
Williams asked Budd if he could talk about a bill he recently introduced regarding the United States' reliance on Chinese pharmaceutical products.
While it may be cheaper to manufacture or make them in other countries, "We want to make sure those resources are available in the U.S.," Budd said.
That way, he told the students, if there is tension between another country's government and the U.S., that country cannot hold up our medicines or the ingredients to make those products.
"It's really about National Security," he said.
Students prepared questions for Budd and each took turns asking them. Many took the opportunity to ask about the novel coronavirus, Stimulus checks and other topics in the news. Principal Alicia Eller also joined in on the platform from home.
Real-Life Lessons
In Williams' civics class, students research an issue, policy or law that they would like changed. Then they invite a guest speaker, such as an elected official, local business leader or city manager, into their classroom to come and speak for the day.
Guest speakers have included school board member Todd Carver, N.C. Sen. Vickie Sawyer, Statesville Councilman William Morgan, Statesville City Manager Ron Smith and many others.