Special to Iredell Free News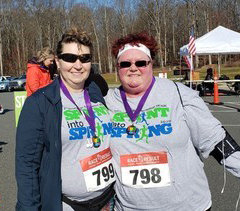 A year fraught with health problems for long-time friends Eyvette Isaac and Robin Lackey culminated in a physical and mental victory in early March when they completed participated in a 1-mile fun run in just under 26 minutes.
The journey for the two Iredell Health System employees to get to that point wasn't easy.
Isaac's story
Eyvette Isaac, a telemetry monitor technician, is no stranger to health issues.
What started as a migraine for Isaac in December 2018 eventually became a transient ischemic attack – more commonly known as a stroke. A short time later, she needed surgery for a swollen trachea that ended up requiring a tracheostomy and required her to be out of work recovering for seven months.
With the help of Iredell Cardiopulmonary Rehabilitation, Isaac fought her way back to return to work in July 2019. But then she was hospitalized three times from August to October 2019 for respiratory issues.
Isaac expressed gratitude for those who have supported her throughout her challenging journey.
"I give God the glory, and with my faith in Him, I have overcome. And the unwavering support of my family, work family, church family, and medical professionals," she said. "I am so grateful to all the physicians and other providers who diagnosed my health concerns, oversaw the maintenance of my trach, and ran numerous tests to find the right medications to manage respiratory concerns. I am so fortunate to work with amazing professionals and to have had such great care."
Lackey's story
Struggling to recover from bronchitis in February 2018, CNA Robin Lackey ended up in the Iredell Memorial Hospital Emergency Department, where she was diagnosed with pneumonia. When she struggled to recover from pneumonia, she returned to her physician. After a complete medical examination, she learned she had stage 2 cervical cancer.
But her health challenges didn't stop there. At a later appointment with an oncologist and surgeon to discuss an abnormal mammogram, she learned she had stage 0-1 breast cancer. And when she later had a robotic hysterectomy, she found out the cervical cancer was stage 3, and there was also cancer in her uterus.
After six weeks of recovery, she underwent a bilateral mastectomy and reconstruction surgery. Two weeks later she was back in the hospital with supraventricular tachycardia, an abnormally fast heart rhythm.
"It has been a hard road to complete recovery," Lackey said.
Fulfilling her previous position as a CNA when she returned to work in February 2019 was too physically demanding for Lackey, so she found another option within the Health System.
"Thanks to Adam Hedges and Kathy Lail, I transferred and became a monitor tech and I love this job," she said.
Lackey went through three months of physical therapy with Iredell while continuing to see her physician.
"I have been so blessed and have had so much support from my family, my co-workers, my medical doctors and staff. I feel as if these wonderful people were placed in my life at the time I needed them by the grace of God."
Sprint into Spring
Iredell Health System regularly sponsors community events, especially those that encourage health and wellbeing. Isaac won two complimentary entries to the Spring into Spring race at Troutman ESC Park through an internal employee drawing in February 2020.
Isaac knew exactly who to invite when she found out she won.
"There was no hesitation that it would be my friend of many years, Robin Lackey," she said. "I told Robin and she said, 'No problem!' We supported each other throughout the walk."
"After everything we both have been through this past year, it was meant for us to do it together. We had to do it together. It was only the 1-mile fun run to a lot of people, but it was another victory to us. I take every day as a blessing, and I try to live each one to the fullest."
The women finished the fun run in 25 minutes and 41 seconds.
"One year ago I was given a diagnosis that would forever change my life," Isaac said. "What an accomplishment this victory was for Robin and I both."
About Iredell Health System
Iredell Health System includes Iredell Memorial Hospital; Iredell Home Health; Iredell Wound Care & Hyperbaric Center; Community and Corporate Wellness; Occupational Medicine; the Iredell Physician Network and more. Iredell Memorial Hospital is the largest and only nonprofit hospital in Iredell County. The comprehensive healthcare facility has 247 beds; more than 1,700 employees; and has 260 physicians representing various specialties. Centers of excellence include Women's and Children's; Cardiovascular; Cancer; Surgical Services and Wellness & Prevention. The mission of Iredell Health System is to inspire wellbeing. For a comprehensive list of services and programs, visit www.iredellhealth.org.