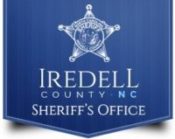 FROM STAFF REPORTS
A Hamptonville man faces multiple charges, including kidnapping and assault, after reportedly holding a woman and her three-month-child against her will for several days.
Iredell County Sheriff Darren Campbell announced the arrest of Dexter Lynn Whitaker, 29, in a news release on Friday.
On Wednesday, August 12, the Iredell County Sheriff's Office was contacted by N.C. Probation officers in Yadkin County, who requested assistance checking Whitaker's residence at 119 Anthony Road.
Probation officers informed ICSO deputies that a woman and her child were being held against her will at the address by Whitaker, who had recently been placed on probation in Yadkin County for a similar incident involving the same victim, Campbell said.
Deputies confirmed through a criminal justice data system search that there was an active Domestic Violence Protective Order in effect prohibiting Whitaker from being in the presence of the victim, according to the news release.
When deputies and probation officers arrived at the home, they made contact with Whitaker, who told the officers the woman was not at the residence and that he had not seen her in approximately two weeks, Campbell said.
However, while the deputies and probation officers were searching the residence, they found items belonging to the woman, which led officers to further believe she and the child were somewhere on the property, according to the news release.
After an extensive search of the property, the officers located the woman in the woods behind the residence holding the three-month-old child, Campbell said.
The woman had apparent signs of an assault and was bruised, according to the news release. When she was interviewed on scene by the deputies, the woman told them she and the child been held captive at the residence for approximately three days after the assault had occurred, Campbell said.
The woman said she was hiding in the woods at the direction of Whitaker. The child was unharmed.
Whitaker was arrested and taken to the Iredell County Detention Center, where he was charged with Felony First Degree Kidnapping, Felony Assault Inflicting Serious Bodily Injury, Felony Domestic Violence Protective Order Violation, Misdemeanor Interfering with Emergency Communications, Misdemeanor Assault on a Female, Misdemeanor Child Abuse and Misdemeanor Resisting a Public Officer.
Magistrate Imes placed Whitaker under a $605,000 secured bond.