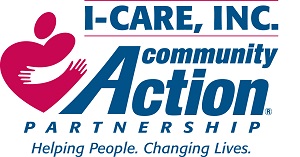 Special to Iredell Free News
At Southeast Head Start/Early Head Start in Statesville and the Catawba County Head Start/Early Head Start, the staff is always looking for innovative ways to keep families engaged in their child's learning process.
When parents remain involved in the education of their children and see their success, they often decide to pursue more education and obtain better employment for themselves. This can result in further improvement in a child's development.
Jenna Byrd, the assistant director of Children's Services for I-CARE, came up with an idea to have a PRIZE store with items for home and family.
"I was attending a fatherhood conference last year and heard this idea," Byrd said. "I've been working on it since August and we are just about to launch!"
In the PRIZE store, parents will be able to redeem I-CARE Bucks, which they earn by participating in various events such as attending a parent meeting, sending in pictures of home engagement activities or perfect attendance.
Once a family has accumulated five I-CARE Bucks, they can request a virtual tour of the store. Shopping will be done virtually alongside a family service worker, and the prizes will be sent home through the car rider line.
"The goal is to make this sustainable over the long term," Byrd explained. "Everyone is excited about this, and we are very grateful for the help we've received."
The Statesville store will be housed on the Southeast Head Start campus. Seed money for purchasing items needed by any family with children was donated by Accel Tire in Statesville and by Head Start and Early Head Start staff.
Assistance to keep both stores stocked with new items will be needed. To find out how to help or obtain more information, contact Byrd at (704) 873-2858, Ext. 207.
The Head Start and Early Head Start programs are administered by the Office of Head Start, within the Administration for Children and Families (ACF), U.S. Department of Health and Human Services (HHS).
The Office of Head Start (OHS) administers grant funding and oversight to the 1,600 public and private nonprofit and for-profit agencies that provide Head Start services.