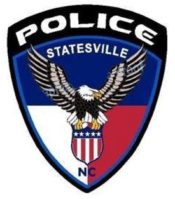 FROM STAFF REPORTS
A 30-year-old man died Thursday afternoon after crashing his vehicle into a utility pole while fleeing from a Statesville police officer, authorities said.
According to a Statesville Police Department news release, a Nissan Altima drove past an SPD officer at a high rate of speed on Brevard Street about 1:36 p.m. on Thursday.
The officer, who was following up on an earlier call, turned his vehicle around and began pursuing the Nissan, which was operated by Statesville resident Justin Wilson, police said.
Wilson then accelerated and entered a curve on Brevard Street, at which point the officer lost sight of the Nissan for a brief time, according to the news release.
When the officer approached the curve, he saw the Nissan in the wood line. The vehicle had struck a utility pole prior to entering the wood line in the 600 block of Brevard Street, police said.
The officer attempted to reach Wilson to help him, but was unable to do so due to a powerline on the ground, according to the news release.
The officer immediately requested assistance from Iredell County EMS and the Statesville Fire Department to assist.
Wilson died from the injuries he sustained in the crash, police said.