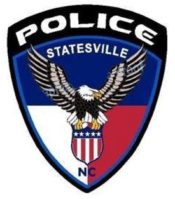 FROM STAFF REPORTS
Violent crime and property crime both declined in the City of Statesville in 2019, according to the Statesville Police Department's annual crime report.
SPD Chief David Addison provided a summary of the crime report this week that showed:
♦ Violent crime down 9.25 percent;
♦ Property crime down 5.12 percent;
♦ Robberies down 25 percent; and
♦ Burglaries down 28.57 percent
There were two homicides in the city in 2019, up from one the year before. The SPD made arrests in both 2019 cases.
Two categories that showed an increase from 2018 were larcenies from motor vehicles (up 23.44 percent) and calls for service involving hit-and-run accidents (up 11.89 percent).
Chief Addison had planned to present the crime data at the March 16 meeting of the Statesville City Council, but the presentation took a backseat to the city's response to the global COVID-19 pandemic.
"One of our responsibilities to you is providing as much transparency as possible. Our goals include sharing our crime numbers twice a year to the community," Addison said in the summary. "It remains our pleasure in serving this community. Together, we are making Statesville a safer community."
The SPD has 104 employees, including 82 sworn employees and 22 civilian employees.
In 2019, SPD telecommunicators answered 81,285 calls, up 8.97 increase from 2018 when the department received 74,591 calls. Officers were dispatched to 61,910 calls in 2019.
Other data in the summary includes:
♦ SPD seized 125 firearms as evidence, along with an assortment of 602 items related to drug cases, and $29,062 in cash.
♦ Officers were involved in 17 vehicle pursuits with 13 resulting in the apprehension of suspects. Two chases ended in crashes.
♦ The SPD conducted 27 investigations related to the use of force by personnel. Fifteen involved the use of "soft hands" and 12 involved the use of Tasers or direct physical force. Four suspects and three officers were reportedly injured.
From the Report