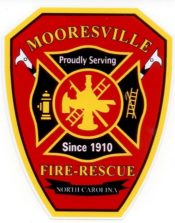 Special to Iredell Free News
An early morning fire at the WestRock facility in Mooresville was controlled by the fire sprinkler system, limiting damage to a single piece of production equipment and sheets of raw cardboard material.
All 30 employees who were working in the building were able to safely evacuate.
Mooresville Fire-Rescue was dispatched at 12:46 a.m. to a reported structure fire at 279 Mooresville Boulevard and arrived eight minutes later to find the building's fire sprinkler system had contained the fire to a piece of equipment that feeds blank sheets of cardboard into a printing and cutting process.
Once the scene was placed under control, firefighters provided assistance as WestRock safety and maintenance team members removed exterior panels of the equipment to confirm the fire had been fully extinguished.
Initial estimates indicate damage to the processing equipment may total $2 million.
The building, all equipment and raw materials are believed to be worth $150, according to WestRock officials.
The Mooresville facility employs 130 people.
"The Safety Team at WestRock did an excellent job of initially using fire extinguishers to try to put out the fire and quickly evacuating their co-workers to safety," Fire Marshall Geoff Woolard said. "The outcome was a great example of why fire sprinklers in any building protect life and property. Because of this 'sprinkler save,' the company will have minimal down time with no loss of jobs as a direct result of this fire."
Fire investigators determined the fire to be accidental in nature due to an accumulation of cardboard dust in the equipment that ignited.