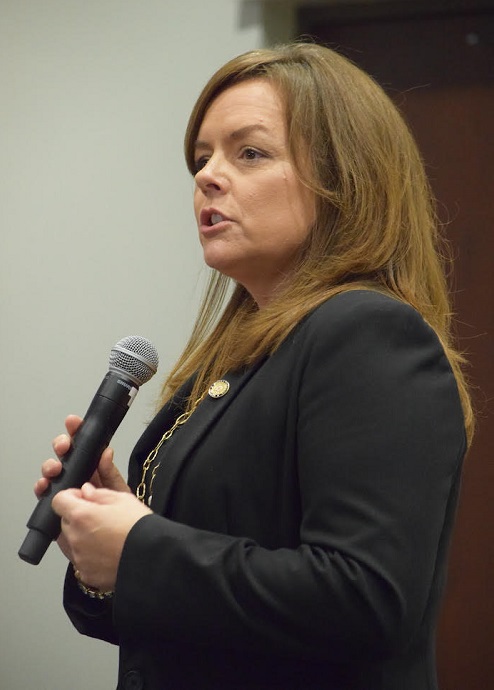 Community meeting organized to dispel rumors, fake news about research findings
BY DEBBIE PAGE
debbiepage.iredellfreenews@gmail.com
Nearly 300 people who attended the Coal Ash and Thyroid Cancer "Update with the Facts, Not Fake News" session for area realtors and the community on Thursday morning heard the latest information on the research on the public health concern from N.C. Sen. Vickie Sawyer, N.C. Rep. John Fraley, and Iredell County Health Department Director of Environmental Health Services Brady Freeman.
At this fourth public meeting on this issue, Sawyer described her continuing search for answers on increased thyroid cancer rates in the Mooresville area. She began her quest in 2017 while running for state office.
Sawyer, who represents Iredell and Yadkin counties, said she is dismayed by the misinformation and accusations about the issue that she has seen circulating on social media.
ADDRESSING MISINFORMATION
Sawyer resents accusations that she or others were bought off by Duke Energy, noting that her publicly available campaign finance report shows she has not received contributions from Duke Energy, any of its affiliates, or its executives.
She also defended the state and university agencies and researchers who are working on this issue. They are professionals who care about community health and safety, she said, and they are not controlled by Duke Energy.
Sawyer also debunked the assertion that the "entire city of Mooresville is built on coal ash," pointing to a N.C. Department of Environmental Quality (NCDEQ) map of documented coal ash fill used in the area from 1995 to 2001, after which time the practice ceased. Theses sites are regularly inspected by NCDEQ.
The accusation that "the schools are full of cancer" is also inaccurate," Sawyer said. "The childhood cancer rates here are no different than anywhere else. There are no facts to support this."
The erroneous belief by some that Mooresville's water is filled with coal ash is also frustrating to Sawyer, who noted the municipal water system, which also serves many county schools in the area, is "heavily regulated and tested constantly."
She also defended the state and local health agencies, accused by some of doing nothing and not caring, saying that they are "working very hard and getting national attention for their efforts."
"We are pushing as hard as we can at the state and local level. It's not fast enough for this mama bear, but we are working on it."
Sawyer's "mama bear" fears were first stoked during a packed NCDEQ meeting about the Marshall Steam Station. When someone in the crowd asked why elected officials did not care about the issue, Sawyer and Fraley stepped up before the angry crowd and pledged to become "soldiers in the war to find answers." They also recruited Mayor Miles Atkins and the Health Department to join their initial work group.
Sawyer pointed out her own personal interest in the safety of coal ash — a pit is located 300 feet from her home well near Lake Norman High School, and she too was worried and angry about possible contaminant exposure of her two teenage daughters. She spent $3,000 on a well filtration system to protect her family.
However, the repeated testing of water from her area and 786 other area wells in a Virginia Tech study last year showed no environmental concerns.
These researchers, who earlier discovered lead contamination in municipal water in Flint, Mich., found no smoking gun for the elevated rates of thyroid cancer in the Mooresville and said it was premature to point the finger at any cause.
DEDICATION TO FACTS, RESEARCH
Sawyer said she has realized that reacting emotionally to unfounded attacks, social media posts, and rumors is not the responsible way to proceed.
Instead, she vowed to focus on unbiased research and facts being gathered by the NCDEQ, the N.C. Department of Health and Human Services (NCDHHS), the U.S. Centers for Disease Control (CDC), and expert researchers from Duke University, Virginia Tech, UNC, the UNC Lineberger Cancer Center, Wake Forest University, N.C. State University, East Carolina University, Dartmouth University, and other cancer experts who have since joined the effort to investigate the thyroid cancer increase in the area.
The Health Department, under Director Jane Hinson, has spent thousands of hours investigating the community's concerns on the issue.
"They care and want to find answers. They are our greatest allies," said Sawyer.
Sawyer also got her bill (SB 297) passed and signed into law last July to create a research advisory panel at UNC-Chapel Hill to develop recommendations and strategies to create a statewide research program to detect and monitor cancer clusters and to help update state monitoring.
State agencies and university researchers also have varying methods to collect cancer data (report by ZIP code, per 100,000 people, etc.), so she hopes this bill will help create a comprehensive and consistent roadmap for future research.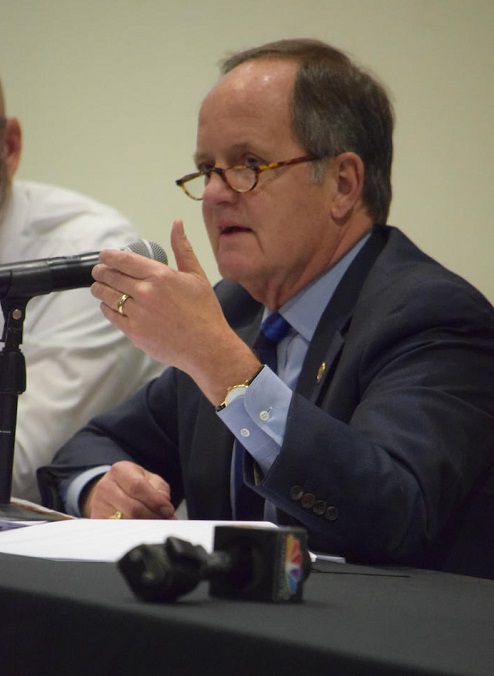 BETTER CANCER DATA
Fraley wanted attendees at Thursday's meeting to "clearly understand that the entire group, the state, the academic partners, the local officials' working group, have immense empathy for the families affected. Everyone is focused on trying to figure this thing out."
"We are focused on getting accurate answers based on established scientific protocols," Fraley said. "Being factual — collecting data to back the research up — all takes time."
Everything officials and researchers have collected on area thyroid cancer and coal ash is available to the public on the ICHD website.
"Nothing is held back," he said.
Fraley noted that there were 567 U.S. cancer clusters investigated from 1990 through 2011, with 72 meeting the CDC definition of a "cluster." Only three of these 72 found a proven environmental cause, with one other cluster attributed to another cause.
"It's very complex to understand all that is going on," said Fraley. "You have to have it done in sequence and with logic."
"This process has be very accurate and done scientifically. You can't use emotion in a very emotional issue. We've got the responsibility to do that."
"This issue is getting a lot of attention. We're trying to understand what's out here. Nothing is off the table to be looked at," added Fraley, including water, soil, and air.
University testing and labs use their own standards for testing, not the state's guidelines, Fraley noted.
NCDHHS and NCDEQ have gone through journals worldwide to create a list of possible cancer-causing chemicals and compared them to 20 years of Iredell County emission records and can "find absolutely no link anywhere on all of that," said Fraley.
Being scientifically responsible is important, said Fraley, alluding to a false alarm caused by one contaminated water sample in a number of samples taken at Lake Norman High School (which is on the oft-tested Mooresville municipal water) that set off an unnecessary panic that components of jet fuel were in the water.
"We warned people who wanted to report that – better be careful. We're not sure that that is right." School officials brought in bottled water until retests at multiple locations throughout the school showed the water was free of contaminants.
"Folks, we need to ask questions before we jump to conclusions on things. Let's be careful. Let's be straightforward about what is going on."
THYROID CANCER
To put the problem in context, Fraley informed attendees that the thyroid cancer rate in Iredell County from 1999-2016 was 12 cases per 100,000 people. The N.C. Cancer Registry, one of the top-rated in the nation, collects data on the top 10 types of cancer reported in the state (as other states do), but thyroid cancer did not fall in the top 10, causing the Mooresville area's increase to be missed.
Thyroid cancer is increasing worldwide, added Fraley. "There's no clear answer as to why. The only thing anywhere in the world that has been proven to be a direct cause of thyroid cancer is radiation."
Sawyer noted that the cancer data the state collects is almost two years old when they get it and that collection is made difficult because of federal HIPPA laws to protect patient privacy.
She would like to craft legislation to get medical insurance companies, who pay the medical bills and know where the various types of cancer are in real time, to share that information with researchers for quicker and up-to-date information to locate any potential clusters.
COAL ASH AGREEMENT
In a deal reached with state, community, and environmental leaders on January 2, Duke Energy agreed to excavate the majority of its remaining coal ash.
Eight coal plant sites were already slated for full excavation and closure, and in the nation's largest coal ash cleanup, Duke agreed to excavate 80 million tons of ash, with a total of 124 million tons removed.
The Marshall Steam Station and the Roxboro Plant will be allowed to keep some ash after Duke builds lined landfills over the ponds at those two plants.
At Marshall Steam Station, approximately 852,000 tons of ash will remain under the landfill, with 15 million tons capped in place. The groundwater and surface water will be monitored and managed by Duke under the state's oversight, and additional remediation will stabilize the material in the basin.
Excavation will take 10 to 15 years to complete at a cost of more than $8 billion.
Fraley said that Duke Energy, the state, NCDEQ, and environmental groups came together to negotiate this settlement. There will be a meeting in February to explain the agreement and what will happen at Marshall.
"The Southern Environmental Law Firm and the Catawba River Keepers have been very much on top on this for years, and they were very pleased with the results of that agreement," said Fraley.
SOIL AND WATER TESTING
Soil testing was also recently conducted at several Mooresville area schools along Highway 150 that had soil disturbed during construction between 1995 and 2001.
Freeman said, using a scientific approach, 52 samples were collected at varying depths, which went one foot below the depth where they found natural material. Some samples were collected from as deep as five feet.
The samples were then sent to two different labs for analysis. Results are expected by the end of February.
Soil samples have also been taken from several thyroid cancer patients' homes, added Fraley, to compare with samples from elsewhere to see if there are differences.
After a question about the safety of lake water, Fraley cited Duke University team research that tested water along the lake, including in the cove near Lake Norman High School and at Lake Norman State Park. All testing there, as well as all the Virginia Tech well water tests last year, found no issues.
"The report that has come back from the Duke University team is that it's time to move on from water. There's not a problem with the water," said Fraley.
Freeman said Iredell County commissioners reduced fees for Health Department water testing ($250 to test for 32 substances) if folks are concerned and want their well water tested. Private labs Statesville Analytical and Pace Analytical also can conduct testing.
Freeman also said that residents concerned about radiation in the soil can get radon kits for testing their homes. The N.C. Cooperative Extension Service on Bristol Road in Statesville has some free radon testing kits available.
Fraley added that all I-SS and MGSD schools and some homes in southern Iredell County were tested for radon and no issues were found.
THE 'MOST IMPORTANT THING'
"The most important thing the community can do is be informed," said Fraley. "If you have a question, reach out and ask it."
"We can largely say there's not a problem with water, there's not a problem with radon. But if science changes and something changes and we need to double back because we didn't think of that then or look at it then, then it will be done."
"There are no limitations on this whatsoever, and it's not being dictated by anyone. It's simply just an effort to figure out what might be causing this, whether it's in Iredell County, whether it's in North Carolina, whether it's in the United States," said Fraley.
"Our quest is to find out what happened, why, and how to fix it as we move forward," added Sawyer. "I'm working my hardest to protect not only my family but yours."