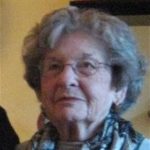 Geneva Pearl Nanninga Featherston, 96, passed away on Tuesday, January 7, 2020, at The Gardens of Statesville.
Mrs. Featherston was born on June 16, 1923, in Wakefield, Kan., to the late Walter Nanninga and the late Essie Kneper Nanninga. She was first married to Maurice Leslie Featherston, who passed away in 1975, and later married Phillip M. Miller, who passed away in 1993.
She is survived by her son, Leslie W. Featherston of Benson, Ariz., her daughter, Beverly Bartlett (Rod), of Gainesville, Fla., and Ginger Klock (Dan) of Statesville, N.C., and her former daughter-in-law, Lynda Featherston of Mt. Vernon, Mo. She is also survived by her four grandchildren, Robert Bartlett, Ronald Bartlett, Lance Featherston, and Laurel Featherston-Viet, and two great-grandsons. She was preceded in death by her two brothers, Barnard (Barney) Nanninga and Hal Nanninga, and her stepdaughter Carol Miller Bahrman.
Mrs. Featherston spent most of her career as a secretary; however, late in life she managed a large apartment complex in Thousand Oaks, Calif., until her retirement. She learned to fly under the instruction of her first husband, Maurice, and soloed in 1954. She has traveled the world with her children, visiting Ireland, England, Korea, Hong Kong, and much of the United States.
A memorial service will be held at a later date and burial will be in Old Mission Cemetery, Wichita, Kan. Memorials can be sent to Hospice and Palliative Care of Iredell County, 2347 Simonton Road, Statesville, NC 28625 or Friends of the Library, 430 N. Main Street, Gainesville, FL 32601.
Nicholson Funeral Home is entrusted with arrangements.