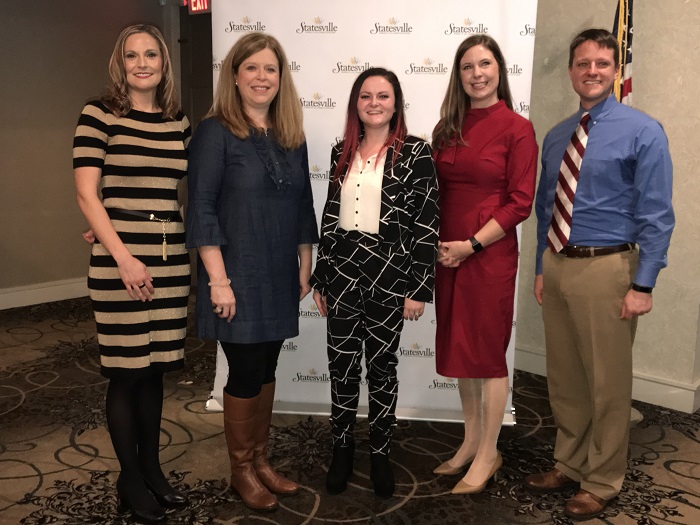 BY BRANDY TEMPLETON
The Greater Statesville Chamber of Commerce recognized a group of emerging civic and business leaders Friday morning.
Honored as the Iredell Health System Future5 for 2020 were:
♦ Jon Madison of Doug Madison Realty;
♦ Melinda Childress of Banner Drug Co.;
♦ Haley Jones of Carolina BalloonFest;
♦ Elizabeth Johnson of Crosswhite, Crosswhite, & Johnson, PLLC); and
♦ Candace Reeves of Davis Regional Medical Center
The recipients of the award were chosen from a pool of nominees by the Chamber and honored during a breakfast at the Statesville Country Club
Pastor Chip McGee spoke to attendees about "The Trademark of Tomorrow's Leaders."
The next generation is crying out for a future that has humility, he said. Generation Z values approachability, being heard, and authenticity.
"It's using your power to lift up others and to serve someone else," McGee said. "Humility sustains growth, while pride slows growth. It takes humility to take risks and risking failure is where innovation is found."
McGee, who serves as Christ Church Statesville campus pastor and chairs The Foundry House Board, encouraged the audience to listen to those who are outside of their generation, especially those who think outside the box.
"Tearing down walls enables genuine connection," McGee said.
About Iredell Health System Future5
This program recognizes five Statesville area young professionals who are currently growing and excelling in their respective fields and positively influencing growth, prosperity, and quality of life in Statesville.