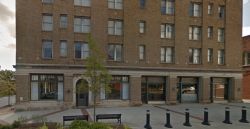 FROM STAFF REPORTS
A Charlotte developer is scheduled to present his ideas for redeveloping the Vance Hotel during Monday evening's Statesville City Council meeting.
Stephen Barker, the CEO of Catellus Group, has expressed an interest in rehabilitating the city-owned property. His firm has several hotel projects in the development phase in the Charlotte area, including a "premiere boutique hotel" in the Dilworth neighborhood.
On the firm's website, Barker is described as a visionary who "has specialized in all facets of commercial-investment real estate including development, rehabilitation, management and finance since 1970."
The Catellus Group's philosophy — "We visualize what other's can't" — may just be what's needed to propel the city forward on the Vance Hotel.
"We change what others won't because we dare to think outside the box," the firm promises prospective clients. "Where others see a broken down building with little value, we see a luxury hotel. When others have given up on a property because it became too hard to manage, we step in to cure the problem.
Specifics on Barker's plans for the Vance Hotel were not included in the agenda packet provided to the general public. The property has fallen into disrepair and has been the source of friction between city officials who want to save the hotel and others who believe using taxpayer money to rehab the building is wasteful spending.
City Manager Ron Smith is encouraging the council to consider Barker's plan and allow his administrative staff to develop a "path forward" on the project, which the council could consider further at its upcoming retreat.
"At this point, we need some action on the Hotel," Smith stressed in an action request accompanying Monday's meeting agenda. "I have mentioned on several occasions that the condition of the building is deteriorating."
Smith said he had spoken with many developers over the past year but "none have been serious."
Meanwhile, Barker has remained engaged with city staff and would like to move the conversation forward, Smith said.
Meeting Info
The City Council is scheduled to convene at 6 p.m. on Monday for the pre-agenda meeting in the second floor conference room in City Hall. The regular meeting is scheduled for 7 p.m. in Council Chambers in City Hall.