Special to Iredell Free News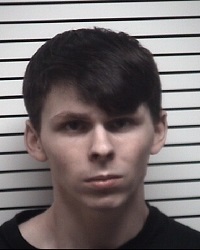 A Concord man and two teens from Mooresville have admitted to setting fire to a residence on Mackwood Road in Mooresville over the weekend, the town said in a news release.
Mooresville Fire-Rescue, along with units from South Iredell Volunteer Fire Department, Mount Mourne Volunteer Fire Department and Davidson Fire Department, responded to a structure fire at 252 Mackwood Road just after 3 a.m. on Saturday. Upon arrival, the vacant structure was fully involved with a roof collapse.
Soon afterward, a second structure fire call was dispatched to Shepherds Volunteer Fire Department, Mooresville Fire-Rescue and South Iredell Volunteer Fire Department for 788 Shinnville Road. The 911 caller described a vehicle parked in the driveway of the burning structure.
Soon afterward, fire investigators and police detectives noticed a similar vehicle drive by the fire scene on Mackwood Road.
Mooresville police stopped this vehicle, which was occupied by Cam Lee Rowland, 19, of Concord and two juveniles, ages 16 and 14, of Mooresville. During the investigation, the three admitted to setting the Mackwood house on fire, then traveling to Shinnville Road and setting that structure fire, according to the news release.
Rowland was arrested and charged with one count of second-degree arson for the Mackwood Fire.
Sheriff Darren Campbell said Rowland was charged with felony second-degree arson, felony breaking and entering, six counts of misdemeanor contributing to the delinquency of a minor, two counts of felony burning personal property, and two counts of felony breaking and entering a motor vehicle. He was issued a $25,000 bond by Magistrate Imes.
Those charges are related to the burning of the Shinnville Road home and his involvement in incidents on January 30, when two vehicles were set on fire in the area of Coddle Creek Highway, according to the sheriff.
Two juvenile males from Mooresville will be charged for their involvement with the Shinnville Road fire, Campbell said.
The investigation is continuing, and more charges are expected.
Mooresville police have conducted three residential search warrants with locations in Mooresville, Iredell County and Concord, as well as a search of the vehicle. The State Bureau of Investigations assisted with the fire scenes.
This investigation has been a collective effort by Mooresville Fire-Rescue/Fire Marshal's Office, Mooresville Police Department, Iredell County Sheriff's Office and Iredell County Fire Marshal's Office.