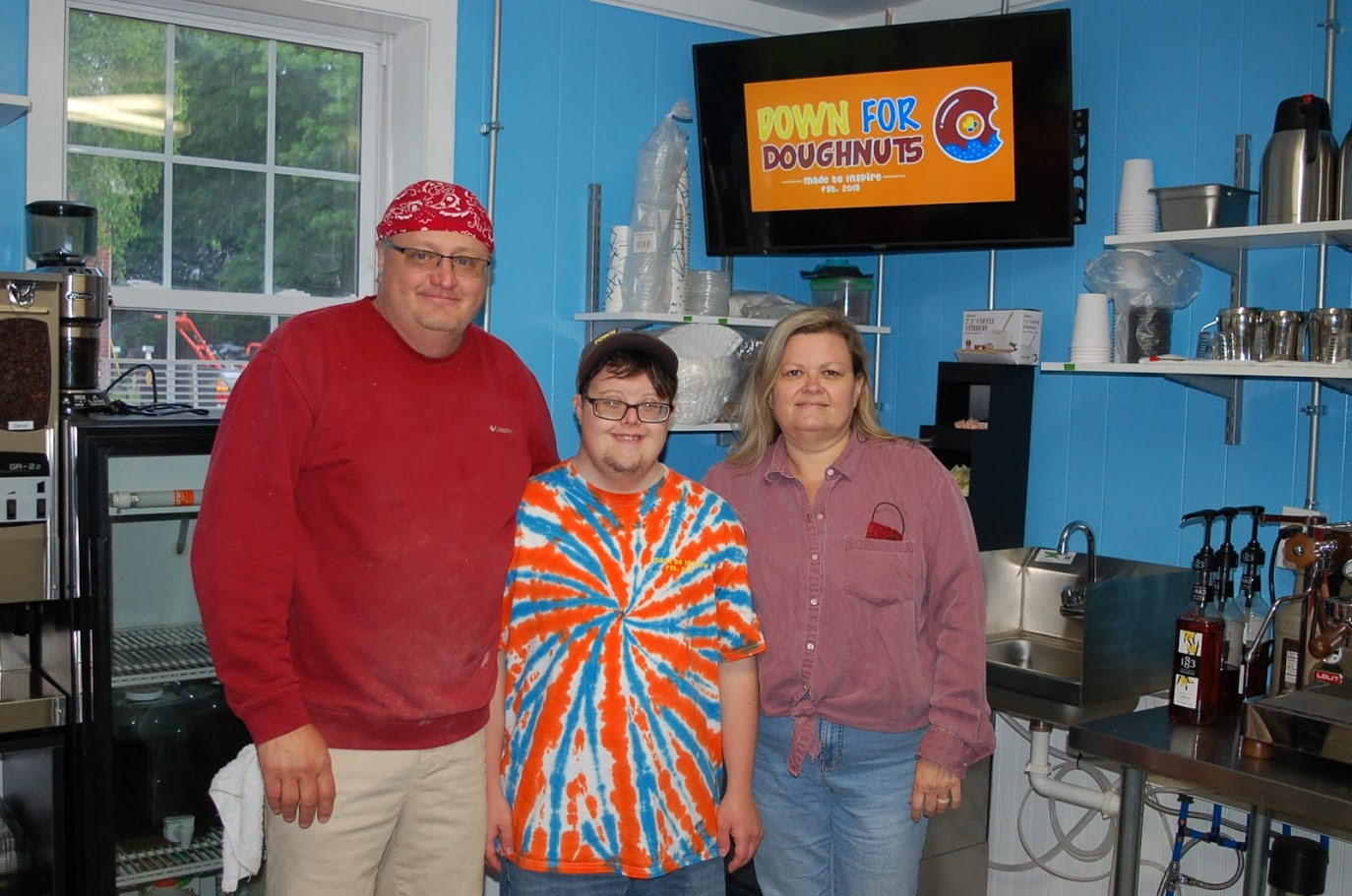 BY DEBBIE PAGE
debbiepage.iredellfreenews@gmail.com
Zach Cooper had a longtime dream — to work with his dad in their own business. After Zach's dad, David, retired from his corporate banking position at Wells Fargo, he and Zach's mom, Lisa, helped bring Zach's vision to reality with the opening of Down for Doughnuts, a shop that employs persons with disabilities like Zach, who was born with Down syndrome.
The shop, located near the Walmart Neighborhood Grocery at 880 East Iredell Avenue in Mooresville, sells a variety of cake and yeast doughnuts, muffins, cinnamon rolls, apple fritters, and other assorted foods and drinks.
The shop also developed a signature blend Haerfest coffee brand, which has become a huge seller, both brewed and by the bag to take home. David describes the coffee as a middle step between light and dark flavors.
The shop's time-consuming fritters, sold now only on Wednesdays and Thursdays, are so popular that they are usually sold out on pre-orders, according to Lisa.
The Coopers, who moved to Mooresville in 1996, have plotted the business idea with Zach for over 15 years, but they were not sure what kind of business to open.
"One night at dinner we were talking about what kind of business we should have and out of the blue, Zach said, 'I want a doughnut shop.' "
"I love doughnuts!" exclaimed Zach, especially the ones with maple or chocolate frosting. The shop's sprinkles are yellow and blue, the colors used to promote awareness of Down syndrome.
Down for Doughnuts, which opened on March 21 on World Down Syndrome Day, had to quickly overcome some COVID-19 obstacles. They moved to phone and online orders and fashioned a take-out window to accommodate customers.
They are still learning customer flow and tastes, tweaking work hours, and listening to suggestions.
"We've been trying to take small steps in the current situation," Lisa explained.
The donuts are made fresh every day by the Down for Doughnuts team members, who are all well-trained to turn out the delicious treats.
SPECIAL ABILITIES
The store has hired a total of six individuals with special needs, but three are not currently working because of their increased risks from COVID-19. Ten or so other parents have also come to fill out employment applications for their special needs family members since hearing about the venture.
Zach, who is also legally blind, works every day the shop is open. "I like it. I like to work with Mom and Dad," he said.
He also enjoys making the boxes and working in the kitchen. His best friend Brennan Ferguson, who was in NJROTC with Zach, enjoys working in the front and meeting people.
"I hope they get the same experience that everybody else gets from their job — some satisfaction, feeling productive, the normalcy of having a job and looking forward to going to work," said Lisa.
"My hope is that we can just shine a light on the fact that individuals with disabilities have the ability to have jobs. They can work, they want to work, and I just really hope we can open some minds and hearts and see other businesses in town take a chance on them."
Zach was lucky to work at Johnny Brusco's New York Style Pizza for several years. Lisa said quite a few families only came to eat on Mondays or Thursdays when Zach was working.
"If you hire people with disabilities, you are going to get new customers. They bring something really special to a business," added Lisa, who believes that these folks have special "abilities" to share with the world.
The family also wanted a business concept that would allow them to hire other individuals with intellectual and physical challenges and assist the Exceptional Children's Teachers & Occupational Course of Study (OCS) students at Mooresville High School, which benefitted Zach.
Getting the many work hours required for OCS students can be difficult, noted Lisa, who is a special education teacher at Rocky River Elementary.
The Coopers were able to get Zach into Food Lion for his community-based and paid hours through a friend, but many families do not have these type of connections.
The staff includes full time business manager Michelle Huff, David, Zach, and five other individuals with disabilities, in addition to other part-time employees. Zach's sister Reagan, who is also a special ed teacher, helps out on Saturdays, and Lisa plans to help more during the summer months.
ROAD TO DOUGHNUTS
Though the Coopers had never owned a business or made a doughnut, they were determined to bring the project into fruition for Zach. David used his analytic and methodical research skills to learn and test recipes to produce quality products.
The couple consulted folks who had been in this business and found vendors also dedicated to quality. They worked with an executive chef to perfect dough and various recipes.
David loves his new career.
"It's fabulous. I don't miss the corporate life at all. I look forward to getting up every morning and coming here with Zach and Bo and all of these guys. We have a good time. It's a blessing."
The shop can produce 60 dozen doughnuts per hour, with most boxes still warm when customers leave the shop with their sweet treats.
'THE GLASS IS ALWAYS FULL'
The Coopers, who were high school sweethearts, married in 1987 and had Zach two years later. Zach was born with Down syndrome, a cleft palate, congenital cataracts, and hearing issues.
The neonatologist told David that the couple did not have to keep Zach and could sign their parental rights away. David informed the doctor that Zach was their son and he was going home with them.
After undergoing many surgeries and dealing with medical issues, the now 30-year-old Zach is an inspiration to those around him.
"He has taught us to see the glass is always full, and being his parents has made us better people," said Lisa.
MORE INFO
Current store hours are Tuesday through Friday from 7:30 a.m. to 4 p.m. and Saturday from 7:30 a.m. to 2 p.m. Call Down For Doughnuts at 980-444-2660 to order ahead and avoid the wait or order online at https://downfordoughnuts.com/shop.
Photos